A mother of two, Akosua Pokua who resides at Breman UGC in the Ashanti Region tells crimecheckghana how she survived an accident whiles she was pregnant.
According to her, the accident which left her left hand charred, occurred when she was on one of her usual business trips.
She said when she was rescued and rushed to the Komfo Anokye Teaching hospital, she became unconscious for three months. The former well-to-do business woman indicated that she was six months pregnant but she lost the child. After she regained consciousness, she said she was admitted at the hospital for a year as she was going through unbearable pain.
"When I was unconscious, my mother drew the attention of the doctors to my pregnancy because they did not realize it. She later told me that the doctors removed the baby and kept it in an incubator but it unfortunately died." She said.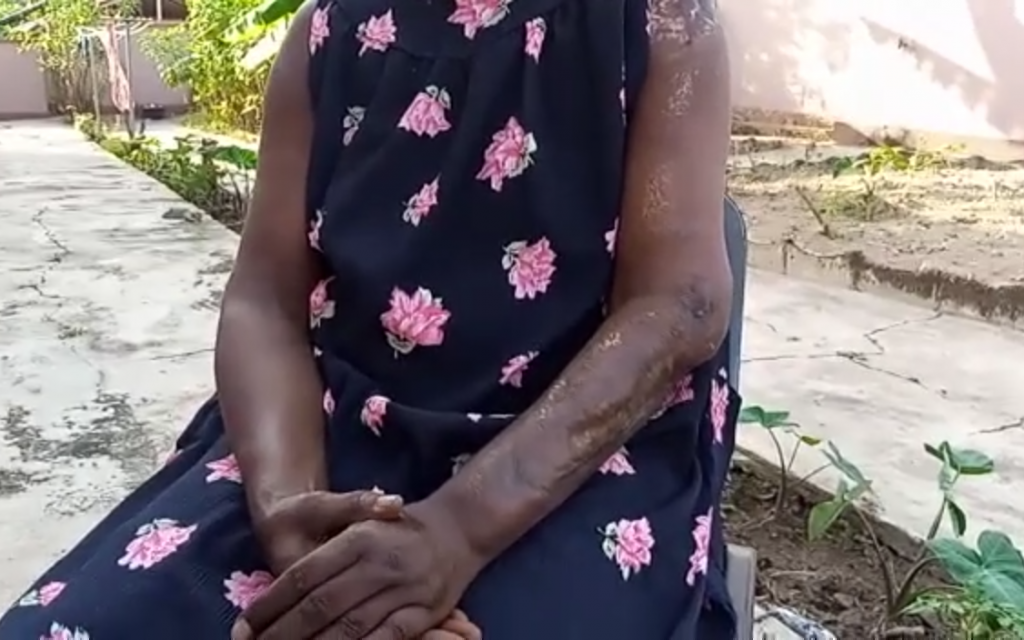 Pokua said her husband only visited her for three months because doctors demanded Four Thousand Five Hundred Ghana cedis to amputate her hand. Her spouse, she said, however left her as she only saw him briefly after she was discharged. She said since then she does not know his whereabouts.
"When I came back home, I only saw my husband briefly. I never saw him again after he went out one day and did not return. He visited me for about 3 months but when doctors were demanding money to enable me undergo surgery, he stopped coming. I had saved some money and my mother and my uncle also supported me." She cried.
The poor woman said, the accident has rendered her redundant as she has lost her business, hence taking care of her children has become tough for her.
"When I remember, how I used to cater for my children and how life was smooth, I get sad about my current situation. But I leave everything in the hands of God." She said.
CCF's intervention
Crime Check Foundation, CCF is appealing to the public to come to the aid of the poor woman.
The Charity Series
Through the Series the Foundation seeks support for struggling individuals.