66-year-old widow, Grace Boateng who lives at Kwadaso Ohyeremso is disillusioned after she lost her husband and her only son.
According to Miss Boateng, though she said she is been cared for by her nieces and nephews, all is not well with her as life batters her so hard that, she starves and struggles to get proper medical care.
"After the death of my husband and my only child, life became difficult for me. If not for the children of my sisters who support me, life would have been a hell for me." She told crimecheckghana.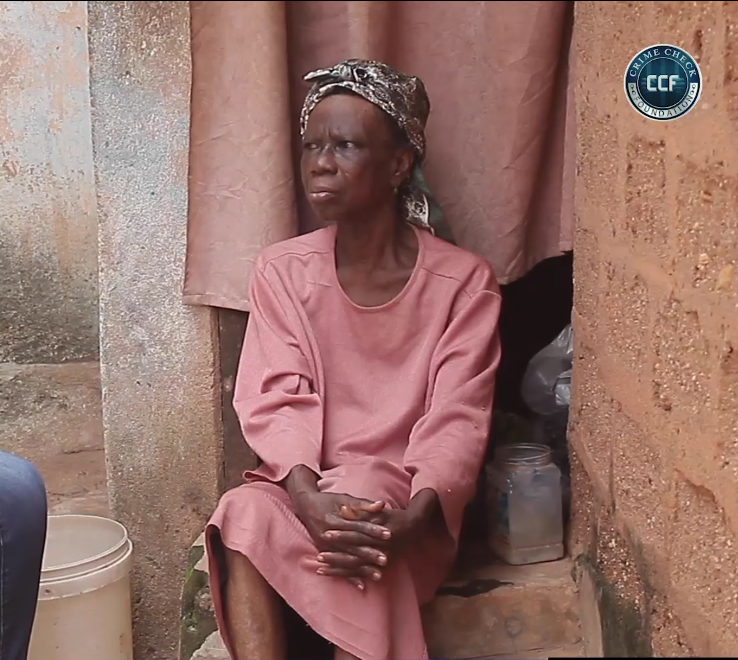 The poor widow said her livelihood depends on pure water sachets which she has been picking from the streets and the proceed she gets after selling it is what she uses to buy drugs to treat her ailment. Her plight, she said has however worsened as she is gradually breaking down and going about her usually unlucrative business has become a challenge. Adding to her challenges, she says, is her almost collapsed building which she managed to repair when she was a public toilet keeper.
"For some months now, I have been unable to go out to pick the rubbers because I find it difficult to walk. I feel pains all over my body so when I manage to go for food from my sisters, I come back home and sleep. I plead with the public to help me to keep my building in good shape." She appealed.
CCF's intervention
At the time Crime Check Foundation, CCF visited her, she showed to CCF her pot-holed room filled with packs of rubbers which depicts the deplorable living condition of the widow. The Foundation is appealing to the public to contact it to support the widow.
The Village Charity Series
Through the Series, CCF seeks support for struggling village dwellers. Kindly contact the Foundation via call or WhatsApp on 0242074276.