37-year-old Adwoa Yeboah, after sustaining acid burns, miraculously, is the only survivor of a car crash in which she lost her husband. Though she was pregnant, she did not have a miscarriage but now has to battle rejection from people because of her deformity.
The trader said she met her misfortune when she was returning home after she had gone to buy goods. According to her, the car she, her husband and other colleague traders were travelling in, crashed after hitting a tree killing all the passengers except her.
"The car wasn't full so we picked passengers along the way. We then met a man with barrels and gallons which he said contained locally brewed alcohol. We did not check whether it was true but we picked him. When we passed Ntresni, a village nearby the car started shaking. I did not see anything again after the car hit a tree." She told crimecheckghana.
Madam Yeboah who was pregnant when she got involved in the accident said she was the only survivor after sustaining severe burns on her face and other parts of her body. She indicated that the barrel which they picked on their way contained acidic substance.
"When I regained consciousness, I realized I was at the hospital. I was burnt so my whole body was bandaged. They brought the bodies of those who lost their lives to the hospital and at a point the doctors had to refer us to the Komfo Anokye Teaching hospital. I was the only person who survived." She said.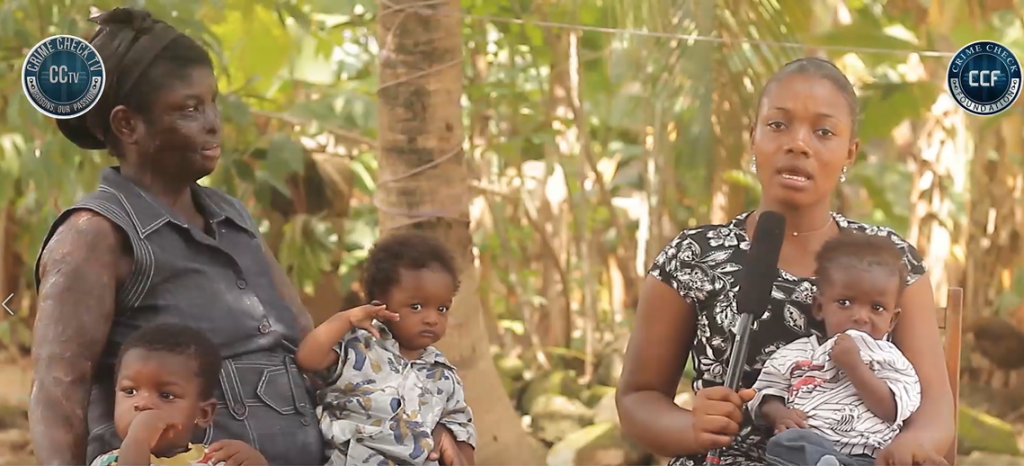 It seemed she was saved by the luck of the twins she carried in her womb as she described her horrible experience when she was giving birth. "I told the doctors to kill me because I was going through unbearable pains. I had sore on my back and my buttocks. The pregnancy was over nine months and I couldn't push out the baby so the doctors had to pull the child out with their bare hands." She recounted.
Madam Yeboah says she now has life very tough to the extent that she had to wrap her children with polythene bags because she cannot afford diapers. Her family she said, have abandoned her making life more bitter for her.
"It has been a difficult moment. Could you believe we owned a land but we sold it because of my injury? When my husband died I felt that was my end because there is no hope. How can I go out to work in my condition and who will even support me if I don't go? None of my relatives has come to visit me." She decried.
The mother of three said she had to beg for alms after the minor jobs she did failed. "I used to fetch water for people to be able to feed the children but I stopped to beg for alms. Sometimes when people see me coming to them to ask for help they avoid me." She said.
Crime Check Foundation, CCF is appealing to the public to support AdwoaYeboah to enable her cater for her children.
CCF's Health Check Series is used to seek support for struggling individuals to get medical care.