30-year-old Ama Akyere is bedridden and has gone blind as her widowed grandmother, Yaa Akyere struggles to get her medical treatment.
According to Yaa Akyere, Ama had a cut on her leg and due to her negligence, the injury worsened and caused her leg to swell. She said later, Ama's eyes were also adversely affected as it oozed tears and gradually, she went blind.
"Ama got wounded after her leg hit a cement block but she didn't take care of herself well so the situation escalated. Her leg got swollen and she was taken to the hospital where she was been treated." She told crimecheckghana.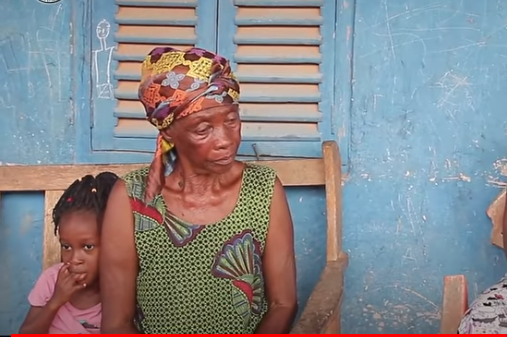 Her difficulties
The widow said her granddaughter who is a mother of two was her only hope as she used to take care of her till she fell sick. She said her quest for medical treatment for Ama has been difficult because of financial difficulties after several failed efforts. Her livelihood she said, now depends on the benevolence of neighbours.
"I took her to the hospital and the doctors punched her swollen leg but it rather worsened her situation. Since then, efforts to get her further medical care has been difficult." She said.
She further indicated that, "taking care of her has been a struggle as even this morning, a neighbour gave me Two Ghana cedis from which I bought porridge and kept One Ghana cedis to buy food for her in the evening; if not we would have starved. My first child died and in two weeks later the second child also followed. Ama also fell sick three weeks on. I am now alone in this world." She cried.
CCF's intervention
Crime Check Foundation, CCF gave Yaa Akyere Two Hundred Ghana cedis to enable her cater for her daughter.
She was grateful. "May God bless the donors and restore what they have contributed for me." She said.
The Health Check Series
Through the series, the Foundation seeks support for struggling and sick individuals to get medical attention.