Residents of Chemu naa, a community at Chorkor in Accra had to jostle each other for their share of new and used clothes and shoes donated by Crime Check Foundation, CCF.
The area is said to be noted for its endemic poverty, hence attracting the focus of CCF to go to the aid of its residents with the items.
The donation
The items which were donated by the Foundation's donors were over ten boxes of male and female clothes and shoes.
Men, women and children had to shove each other as they tried to make selections of their preference.
Preceding the donation, the Executive Director of CCF, Ibrahim Oppong Kwarteng noted the struggles of the residents in the area in getting food and in taking care of their pressing needs. This he said could be a contributory factor for conflicts in the area. He appealed to the public to support the Foundation's programmes to enable it make further donations to deprived communities.
"What comes to one's mind about this community, is the high poverty level in the area. We are going to their aid because of such difficulties. The area is also noted for clashes as the residents would have to struggle to get food because of starvation." He told crimecheckghana.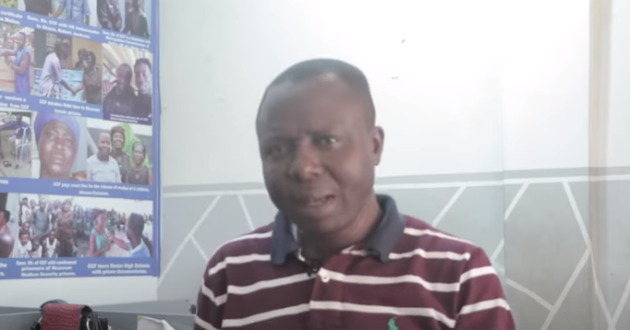 Mr. Kwarteng thanked donors for their support and urged them to donate items that are befitting of a present.
Appreciation
The youth leader of the area who led the CCF team to do the donation, Nii Adortey Allotey, popularly known as 'Allut' thanked the Foundation and its donors on behalf of the community whiles praising the thoughtfulness of the Foundation. "God bless you for your concern for our welfare. It is uncommon for organizations to make this kind of donation to our people and we are very happy for you coming to our aid." He said.
The Charity Series
The Series is used to seek support for struggling individuals and families.