26-year-old physically challenged Yussif Rafia who lives in Daboya in the North Gonja District of the Savannah Region has defied the odds to venture into farming to enable her fend for herself despite her condition.
According to her, though some people believe that disability is a curse, she believes it is to prove that God is wonderful.
The disabled farmer who is currently studying for a Diploma in Business Studies, said she is the only child in her family who is educated. In an interview with crimecheckghana, Rafia said her greatest challenge is the difficulty trekking miles to attend to her maize and soya bean farm in her rickety wheel chair but that does not discourage her.
"I would like to appeal to benevolent organizations and individuals to support me with a motorbike to ease my movement. The tricycle I am using now is limiting my movement. The best revenge is massive success". She said.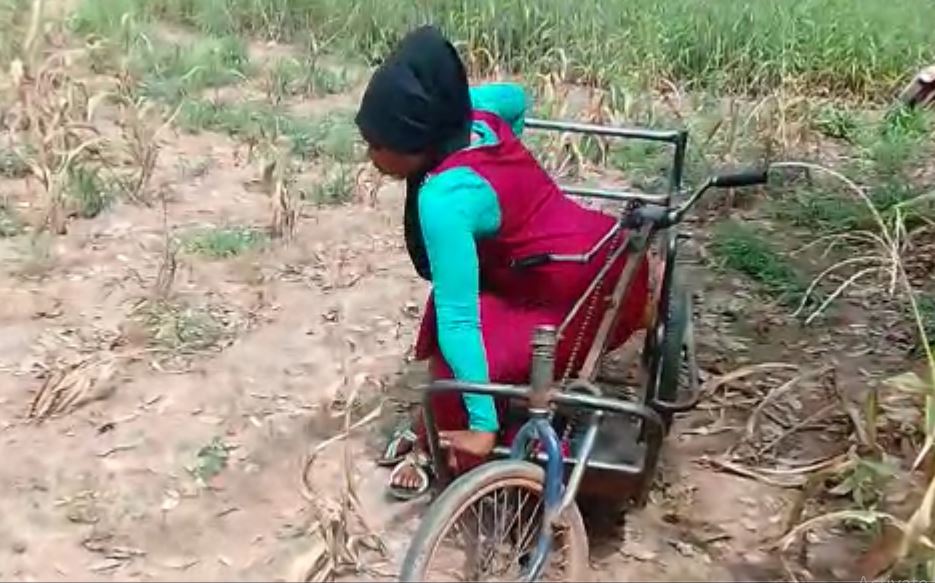 Rafia said she does not want to be a burden on friends and family, hence her decision to farm.
"I decided to go in into farming because I don't want to be dependent on society and individuals. It is also to enable me cater for my education and other needs. The district Social Welfare Department has been supporting me pay my fees but they can't provide all my needs so the proceeds that I would get from my farm would be used to fund my education". She said.
Meanwhile, Rafia's mother, Dramani Ajara said she is happy seeing her daughter do what some able people cannot do.
"Her father is yet to come to terms with her condition because she was not born to be like this. We sent her to different hospitals and herbal centers when she was little but we have come to realize that God has a way of doing things", she said.
Crime Check Foundation, CCF is appealing to the public to support Rafia to enable her achieve her dreams.
CCF's new series, Village Charity is used to seek support for struggling village dwellers.