19 year old Maame Akua's surrogate mother says she can no longer feed her and her daughter because the jobless orphan does not contribute to the finances of the home.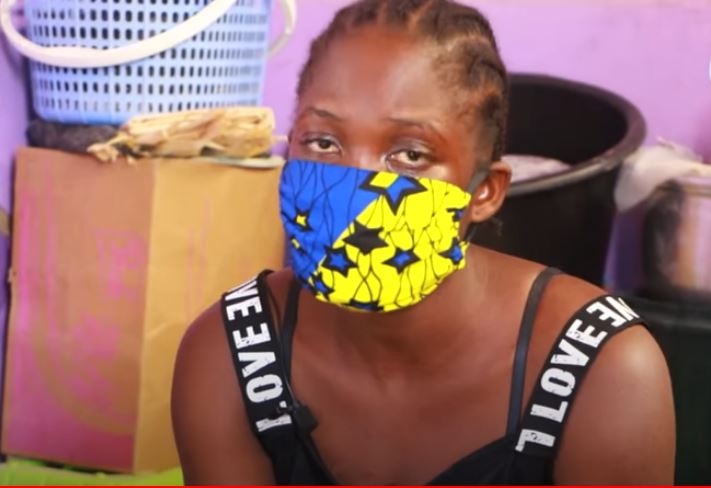 Akua said her surrogate mother has been kind to her since she lived with her but says that now she is overwhelmed with the burden of having to take care of her and her little daughter because of financial difficulties. "The woman I live with was my father's friend so when I became stranded after my father's demise she asked me to come and live with her. The woman has been very helpful. She took care of me when I was pregnant till I gave birth. She also has a child and because of financial difficulties she said she cannot feed me and my child anymore so I should find a job so I can contribute to fend for the house." She told crimecheckghana.
The mother of one said after the demise of her father, she used to get meager remuneration from the help she offers in chop bars until she got pregnant. She said after the pregnancy, her efforts to secure a job have failed as she is turned down because of her little daughter. "I approached a food vendor to employ me but she said she cannot accommodate me and my child." She said.
The orphan said when she was four months pregnant, the father of her child said he was travelling to search for a job and for almost one and a half year now he has not returned.
Crime Check Foundation, CCF through one of its US based family donors called the Abena Family, headed by Mr. Fred Boakye gave the young woman cash gift of One Thousand Ghana Cedis for her upkeep and as business capital.
Receiving the money, Maame Akua thanked the family for their kind gesture. "I thank you for contributing this for the sake of me and my daughter. God bless you and restore what you have lost." She said.
CCF is appealing to benevolent individuals to support Akua to get a source of income to enable her cater for her little daughter.
The gesture forms part of CCF's Charity Series which is used to solicit support for the poor and needy in society.