56 year old amputee widow, Akosua Oforiwaa have had life battered her bitterly as she has been starving. She said her survival depends heavily on the benevolence of neighbors.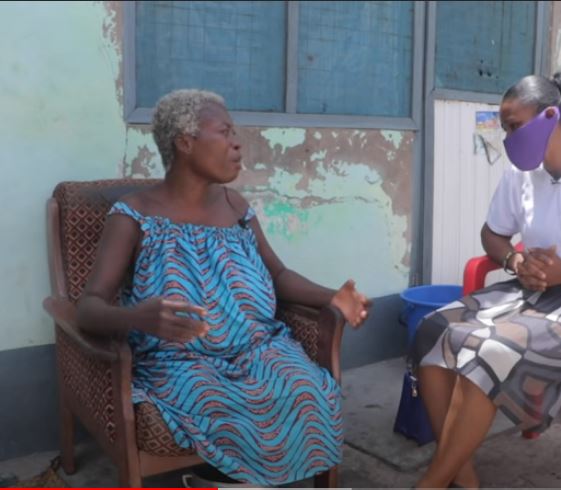 The poor old widow told crimecheckghana that her husband with whom they had three children left her before she was stroke stricken. She said her husband died later a while after he left.
Oforiwaa said her condition worsened when she was diagnosed of diabetes amid the stroke. She said doctors advised that her legs would have to be severed to save her. "I was stroke stricken for twelve years. Two years later I was diagnosed of diabetes at the Korle-Bu Teaching Hospital so the doctors said they would amputate my legs as it was the only way to save my life. My last son too was a teacher but he is not able to go to work because of me. He used to support me but now he is unable to take care of me because of financial difficulties." She told crimecheckghana.
The dejected old woman said her woes has compounded as her landlord has asked her to vacate her room because she is unable to renew her rent. She said she does not have hope anywhere as most of her siblings have passed on whiles those left are also not well to do to be able to support her.
A compassionate church member of Oforiwaa, Isaac Ntiri said he has been supporting the old woman to seek medical attention since she fell ill but his current financial situation does not free him to support her any longer. "For the past twelve years she has been sick, I have been seeing to her feeding, medication and other basic necessities. Sometimes when I leave her alone and go to work she begs for food to eat. I do not have a well-paid job continue to supporting her." He said.
Through one of CCF's group donors, Four Friends in Amsterdam, the Foundation gave the poor widow One Thousand Ghana Cedis for her upkeep as it counts on the benevolent support of individuals and organizations to rent a room for her and also help her gain livelihood.
Oforiwaa upon receiving the cash gift prayed and blessed the donor. "May God bless you and replenish what you have contributed for me. May God increase everything you do so that you never lack and grant you long life. I thank you." She said.