An attempted coup has been thwarted in Niger following heavy gunfire overnight close to the presidential palace, security sources say.
A group of soldiers behind the assault has been arrested, AFP reports.
The attack comes two days before President-elect Mohamed Bazoum is due to be sworn in.
It will be the first transfer of power between two democratically elected presidents in Niger since the country became independent in 1960.
There has been increasing attacks by jihadist groups as well as political tensions in the country following Mr Bazoum's victory in February, the BBC's Lalla Sy reports.
His rival, Mahamane Ousmane, has rejected the result and his supporters were earlier banned from holding a protest on Wednesday in the capital, Niamey.
Former US Sahel envoy J Peter Pham tweeted that both the president elect and outgoing President Mahamadou Issoufou were safe.
The gunfire started around 03:00 local time (02:00 GMT), with people in the capital saying it lasted between 15 and 30 minutes.
"We heard shots from heavy and light weapons and it lasted 15 minutes before stopping, followed by shots from light weapons," a resident told the AFP news agency.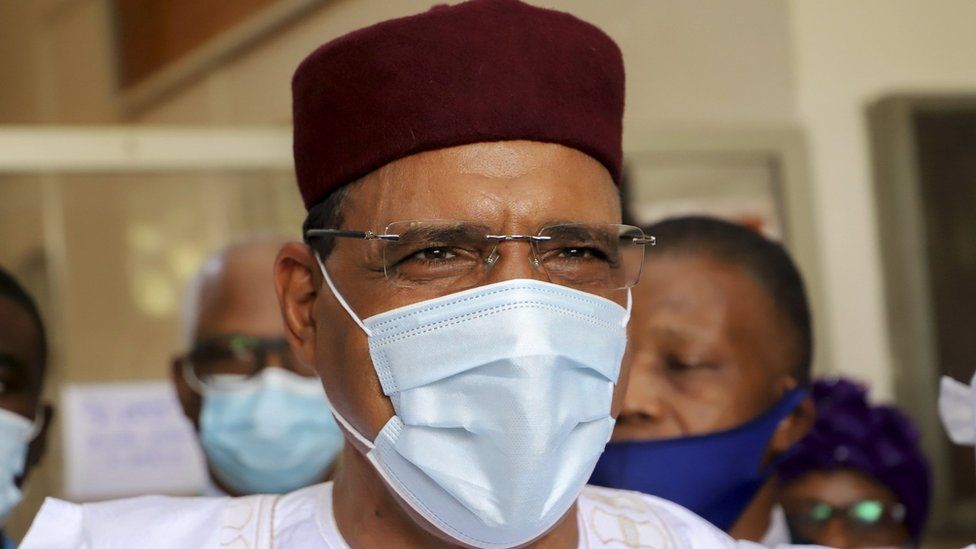 A security source told Reuters that it was a unit from a nearby air base that had tried to seize the presidential palace in Niamey.
The assailants were pushed back amid shelling and gunfire by the presidential guard, security sources told both AFP and Reuters.
President Issoufou is stepping down after two five-year terms. His successor, Mr Bazoum, is a former interior minister from the governing party.
But Mr Ousmane, who was elected president 1993 and was overthrown in a military coup three years later, alleged February's poll was rigged and some violent protests followed.
"The security situation throughout Niger remains fluid in the post-election period with the possibility of unrest and/or intercommunal clashes around the country," the US embassy said in a statement following the unrest overnight.
The armed forces in the coup-prone West African are poorly equipped and trained, and number about 25,000 in a country twice the size of the US state of Texas, AFP reports.
Niger is the world's poorest nation, according to the UN's development rankings for 189 countries.
BBC