Crime Check Foundation, CCF has organized a Christmas party for inmates and officers at the Awutu Camp Prison.
They were treated to a buffet of assorted food and drinks kind courtesy its partner, Ibrahim Ali who is a philanthropist.
This forms part of CCF's series of parties held for the needy and the outcast during the Christmas festivities.
Addressing inmates at the Prison, the Executive Director of Crime Check Foundation, CCF, Ibrahim Oppong Kwarteng reiterated his call on government to pass with urgency the non-custodial sentencing bill into law which would help decongest the prisons and also promote the rights of inmates especially petty offenders.
"We will use this opportunity to reiterate our call on government to pass the non-custodial sentencing bill into law which has been shelved in parliament for many years. The Speaker of Parliament promised the house will pass the bill but that won't happen as the 7th parliament is going on recess. The bill when passed into law will go a long way to achieve the reformation of convicts so we are appealing to government to ensure its passage." He said.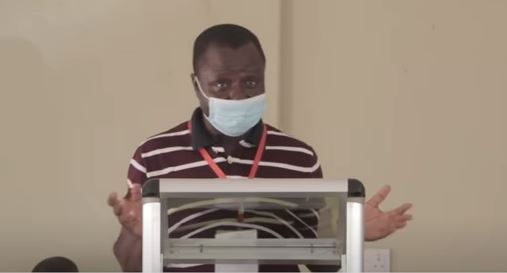 Mr Kwarteng who doubles as the Ambassador Extraordinaire of Prisons urged the inmates to take advantage of the skills training offered by the prison as he pledged the Foundation's support for ex-convicts to set-up a business.
"There are different job skills in the prison so try as much as possible to learn either of them so that you can be employed when you leave prison. If you have learnt any of the trade and you find it difficult to start your business contact us through the Officer-In-Charge and we will support you through our donors." He said.
The philanthropist, Ali Ibrahim vowed to employ the inmates into his company regardless of their criminal records to discourage people from stigmatizing them. "I want to advise you to heed to the advice of the officers so that when you leave prison, you don't go back to indulge in criminal activities. I want to promise you that, I will personally employ you into my company when you come out of prison upon recommendation." He said.
The Officer-In-Charge at the Awutu Camp Prison, DSP William Anaman appealed to the public to complement government's effort in making the Prison achieve its aim of reformation and rehabilitation. "Government's effort alone cannot solve the challenges of the Prisons so we appeal to the public and private institutions to also support. The Awutu Camp Prison can accommodate about Four hundred inmates but currently it houses about one hundred and forty so we need support for more infrastructure to help decongestion of the prisons." He appealed.
The Awutu Camp Prison trains convicts transferred from other prisons and are almost completing their sentences.