Crime Check Foundation, CCF's timely intervention has saved famishing mother of 3, Priscilla Owura who lived at Tema in Ghana from engaging in prostitution to enable her cater for her children.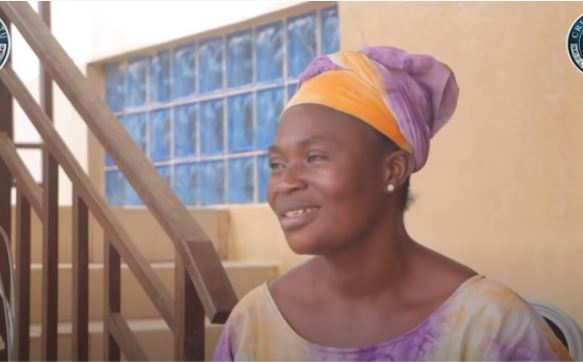 The depressed looking woman said her husband left her and their three children because of financial difficulties for the past three years to search for job and has since not returned. Ms. Priscilla said because she does not have any form of support to cater for the children she nearly got involved in prostitution to be able to fend for them. She said she forcibly came to find shelter in a chapel after she was evicted from her rented room because she could not renew her rent.
"My husband worked with a company in Gabon as a seaman but his work took a nosedive so he decided to travel to look for a job elsewhere. Since he left he doesn't answer my calls and I also don't know his whereabouts. I had to seek refuge in a Prayer Camp after I was ejected from my rented room. I left there to live in this chapel even though the church authorities resisted my decision." She narrated.
The middle-aged woman told crimecheckghana that her living depends on the benevolence of neighbors and church members to feed herself and her children. "I have to beg one of my church elders and some friends to give me money to buy food for my children always. I don't have anything and even the clothes we wear were gifted to me by some benevolent church members. I am fed up of begging for alms so sometimes I have to starve myself and my children. Now I can feel that I have waned because of hunger." She said.
CCF through one of its Germany based church group donors, Assemblies of God Women Ministry gave Priscilla One Thousand Ghana Cedis for her upkeep and business capital.
She was grateful to the group for the kind gesture. "God bless the Assemblies of God Women Ministry and grant them long life. May he answer all their heart desires and make them never lack in life." She prayed.
CCF is appealing to compassionate individuals and organizations to support poor Priscilla with business capital support to enable her get a source of livelihood to cater for her children.
The gesture forms part of the Foundation's Charity Series which is used to solicit support for famishing individuals and families to gain livelihood.