35 year old Sheriffatu Abullayo had to beg doctors to take off the oxygen which was supporting her and be discharged from the hospital because she couldn't afford the cost.
Speaking to crimecheckghana, Ms. Abullayo said she was taken into isolation at the hospital after doctors suspected her of exhibiting symptoms of Covid-19. She said after series of tests was conducted on her on her request, it was revealed that she was suffering from Lupus, a disease that causes the human body's immune system attack its own organs.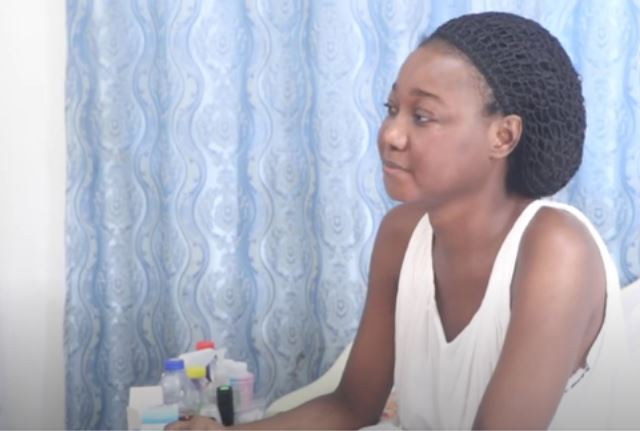 "When I went to the 37 Military hospital, the doctors couldn't diagnose the disease so they alleged it was arthritis and referred me to the Korle-Bu Teaching Hospital. At Korle-Bu, after back and forth with the doctors, I accepted to go into isolation for 20 days though I had to make them aware that the symptoms are that of Lupus and not Covid-19." She said.
After observing the isolation, the mother of one, said she was taken to the ward and was placed on oxygen to boost her breath because the disease had affected her lungs and heart making her struggle for breath. She has to cough in every breath she takes leaving her in unbearable discomfort.
She said for fear of her inability to pay her bills, she pleaded with  doctors to take off the oxygen and discharge her. The desolate lady said her demand was turned down because they feared she could lose her life unless she gets a home oxygen concentrator to support her breath whiles at home. She said the over Eight Thousand Ghana Cedis home oxygen was much of a cost to bear so she only has to wait for her death.
"I told the doctors I would not be able to afford the oxygen concentrator but they should discharge me because I can't bear the cost. Through a Germany based friend, Nana Owusu Akyea who solicited supported on social media, I have been able to raise Five Thousand Ghana Cedis." She said.
Crime Check Foundation, CCF also raised Three Thousand Five Hundred Ghana Cedis to enable Ms. Abullayo acquire the oxygen machine. CCF gave her an additional amount of Two Thousand Ghana Cedis through Mrs. Agyekum and Mrs. Akosua Amponsah to support her upkeep.
Ms. Abullayo appreciated the support. "Thank you for your contributions which will go a long way to help save me. God bless you." She said.
The Foundation is appealing to the public to support Ms. Abullayo to enable her afford her medications and medical reviews.
The Health Check Series is used to seek support for poor individuals who cannot access medical care.