48 year old Cynthia Afful says she does petty domestic chores for people to feed her three children whiles 55 year old Aunty Esi relies on the benevolence of friends to feed her family of ten. Both widows have been starving since the COVID-19 lockdown took effect.
Disheartened Cynthia said she worked with a school canteen but was dismissed because of the closure of schools due to the lockdown. She said though her salary was meager, feeding was not much of a challenge until she was rendered redundant. She said she has to do casual jobs for people to be able to fend for the family.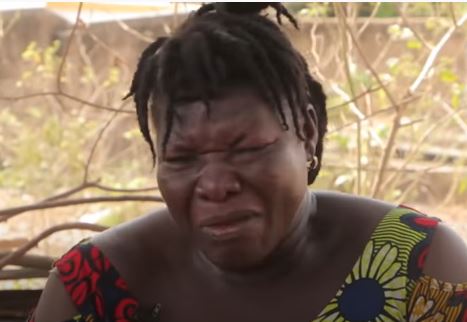 "I use my Two Hundred Ghana Cedis monthly pay to buy what we needed at home and because I sold food, I gave the children some of the food. Since I lost my job I have been washing people's clothes and that has been keeping us all this while. A neighbor gave me Fifty Ghana Cedis after smoking her fish for her and that is what I used to buy the last stock of food we have. If it is exhausted it then we will starve to death".
The distressed widow said the re-payment of a loan coupled with her daughter's ante-natal care bills have compounded her woes.
For 55 year old Esi, she said she lost all her business capital through a car crash which she was involved in. She said since then life has been unbearable for her as she struggles to feed her ten children.
"I was travelling to buy fish to sell but unfortunately all the money I had on me was stolen after the car I was on board crashed. I decided to travel to Accra to do menial jobs but I have been unsuccessful. I borrowed some food stuffs from my neighbor so that we can feed on that for two weeks but because I was unable to pay I could not go to her to ask her for another. Now there is no food and I do not know what to do".
She said she has been able to start a second hand clothes business which is not thriving because she started it without a business capital.
Both destitute widows are caretakers in the houses they live. Cynthia is fortunate to live in big compound house whiles Esi and her ten children find shelter in an uncompleted building. They said when the owners eject them from their houses they will be rendered homeless.
Crime Check Foundation, CCF gave the poor women an amount of One Thousand Five Hundred Ghana Cedis for their upkeep during the lockdown period.
Receiving One Thousand Ghana Cedis, uncontrollable weeping Cynthia, was grateful to the contributors. "May God flourish your business and replenish the money you have given me so that you get more". She prayed.
Esi also received Five Hundred Ghana Cedis and showed her gratitude for the gesture. "May God bless your business to grow and grant you long life so that you would continue to remember and support me. She said.
The Foundation is appealing to kindhearted individuals to support both women with business capital to enable them cater for their children.