Crime Check Foundation, CCF has reached out to poor widow, Comfort Lamptey who lives at Agege a suburb of Accra with a donation of One Thousand Ghana Cedis to support her in taking care of her two blind children.
Mrs. Lamptey said her children, David and Esther were not born blind until three months after she gave birth to them. Narrating the children's ordeal to crimecheckghana, the poor widow said one day she heard Esther scream in the room and when she went to check on her, she saw her eye has bulged. She said David also got blind through the same experience. "During one dawn I heard Esther yell with her eyes protruded. That was how her blindness came about. Two weeks later David also got blind." She told crimecheckghana.
The old widow said doctors could not diagnose the exact cause of the blindness but they told her there was some substance that had stacked on their eye balls. She said both Esther and David underwent surgery to remove the substance on their eyes but it was unsuccessful so they have become partially blind.
Mrs. Lamptey said she was a food vendor but she stopped because she was hit by stroke. She said because of financial difficulties she starves and it is her wayward son who supports her with the meager money he makes from the petty jobs that he does for neighbors.
Interacting with crimecheckghana, David and Esther said they are been stigmatized by their friends and it makes them feel depressed. David said he wishes to become a Lawyer but he does not have the support to further his education. Esther on the other hand said she would like to do business as it is late for her to go back to school.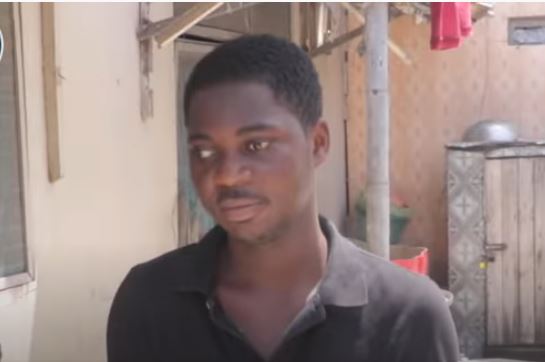 "I usually cry when my friends turn me into a laughing stock but I do not have a choice than to go back to them after I had consoled myself. I have approached people to help me go to the university but they turn me down. " He said.
Esther also told crimecheckghana, "when I go out, people make fun of my predicament and in retaliation I curse them. I pray to God that they also go blind so that they will experience the pain I am going through. I want to own a shop and do business because I cannot go to school any longer."
Poor Mrs. Lamptey said she is filled with sorrow when she realizes that her children are going through pain. "I become disturbed when I see both of them. A single parent living with two blind children is unbearable." She said amid sobs.
CCF through the contribution of two of its group donors, "Four Friends in Amsterdam" and Anthony and family in Italy Mrs. Lamptey received One Thousand Ghana Cedis. She was grateful to the contributors. "God bless you and grant you long life. Psalm 41 says; God saves he that has mercy on the poor from trouble. May God take you out of trouble for the gesture you have shown us." She prayed.
CCF is appealing to benevolent individuals and organizations to support Mrs. Lamptey and help her two blind children realize their aspirations in life.