28 year old Issah Mohammed is at the verge of decay after his mother, Aisha Ibrahim's efforts to raise an amount of Three Thousand Five Hundred Ghana Cedis to facilitate the treatment of his wounded leg proved futile.
Narrating the cause of her son's predicament to crimecheckghana, Aisha said a vehicle knocked down Issah and shattered his leg while he was on a motorbike on an errand for his master. She said the driver of the vehicle took Issah to a hospital and after absorbing his medical bills for three months, the driver abandoned him. Aisha said she sent Issah subsequently to the 37 Military Hospital for periodic dressing of his leg but because of financial difficulties she brought him home for domestic treatment.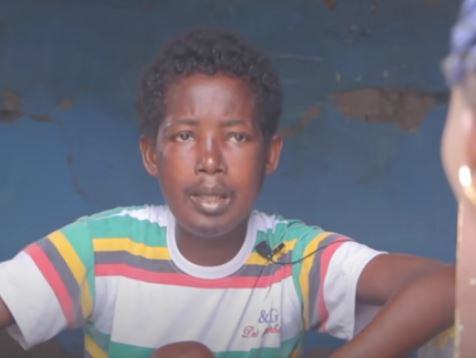 "When Issah got out onto the junction from his master's house a car from nowhere hit him and smashed his leg. The driver immediately rushed him to a nearby hospital at Sakumono and took care of his bills but we did not hear from him after Issah was referred to the 37 Military hospital. I couldn't afford the bills so I brought him home. " She said.
The over 70 year old widow said her son's situation got out of hand because after sometime she could no longer afford the bandages and other medications that could help the wound heal so his leg started to rot. She said she got alarmed at his situation and with the help of her other children she took Issah back to the hospital. Unfortunately it was too late as doctors told her that unless his son's leg is amputated there was no other option to save him. "I got scared as my son was deteriorating so I went back to the 37 Military Hospital to inquire about what could be the solution to my son's leg from getting rotten. The doctors told me they would have to amputate his leg and I am worried by that because if his leg is amputated he wouldn't be able to work to take care of himself and me." She said.
Interacting with crimecheckghana, Issah said the rot has eaten into his leg to the extent of exposing his bones. He said due to that it has affected all parts of his body and has made him swell. "I experience severe pains because of my leg. The rot oozes out awful fluid and even the supporting metal and my bones have been exposed. I cannot stretch my leg and I am unable to sleep. To alleviate the pain, I wash the rotten part away and clean the wound with a detergent and apply some medicines." He said.
A weeping Aisha said she is saddened at how her son is suffering and wished his leg is amputated to give him relief but she does not have any support to facilitate the amputation.
Crime Check Foundation, CCF through its benevolent donors gave poor Aisha Three Thousand Five Hundred Ghana Cedis to ensure that her son's leg is severed to save him.
Aisha blessed CCF and its donors for the support. "God bless you and replenish what you have contributed for my son. May God increase your businesses and grant you long life." She said.
CCF is appealing to compassionate individuals and organizations to support Aisha get a source of livelihood to enable her take care of her son.
The Foundation's Health Check Series is used to solicit support for poor individuals who cannot access medical care because they are unable to afford the bills.