Tens of thousands of people have turned out to protest in the streets of Myanmar's major cities as part of a general strike called against the military coup.
Businesses have shut as owners and employees join the strike.
Protesters were undeterred by a military statement that warned they were heading down a path "where they will suffer loss of life".
Myanmar has seen weeks of protest after the coup on 1 February.
"Protesters are now inciting the people to a confrontation path where they will suffer the loss of life," a statement on state-run broadcaster MRTV said, cautioning protest against "riot and anarchy".
The warning comes after at least two people were killed in protests on Sunday – the worst violence yet in more than two weeks of demonstrations.
Military leaders overthrew Aung San Suu Kyi's elected government and have placed her under house arrest, charging her with possessing illegal walkie-talkies and violating the country's Natural Disaster Law.
Protesters are demanding an end to the military action and want her released along with senior members of her National League for Democracy (NLD) party.
Foreign pressure on military leaders has also been high.
Later on Monday, UK Foreign Secretary Dominic Raab will call for Ms Suu Kyi's release.
What is happening today?
Demonstrations are taking place in all Myanmar's main cities, with people waving flags and chanting.
Local media have been tweeting out images of massive crowds gathering in various parts of the country.
Thompson Chau, editor of local media outlet Frontier, told the BBC's World Service that today's protests "feels a lot bigger than before, with more roads blocked, highways blocked and shops closed everywhere we go".
"Today is more of a huge strike in a sense that everyone is not going to work. All the shops are closed."
Mr Chau adds that even those working for "official state companies, reporting and tax departments, government doctors, engineers", are all going on strike.
There have not yet been reports of violence today, despite stern warnings delivered by the military on state media.
Monday's protest, which has been nicknamed the "22222 Revolution" because it is taking place on 22 February, is being compared by protesters to demonstrations on 8 Aug 1988 – known also as the 8888 uprising – when Myanmar saw one of its most violent protests.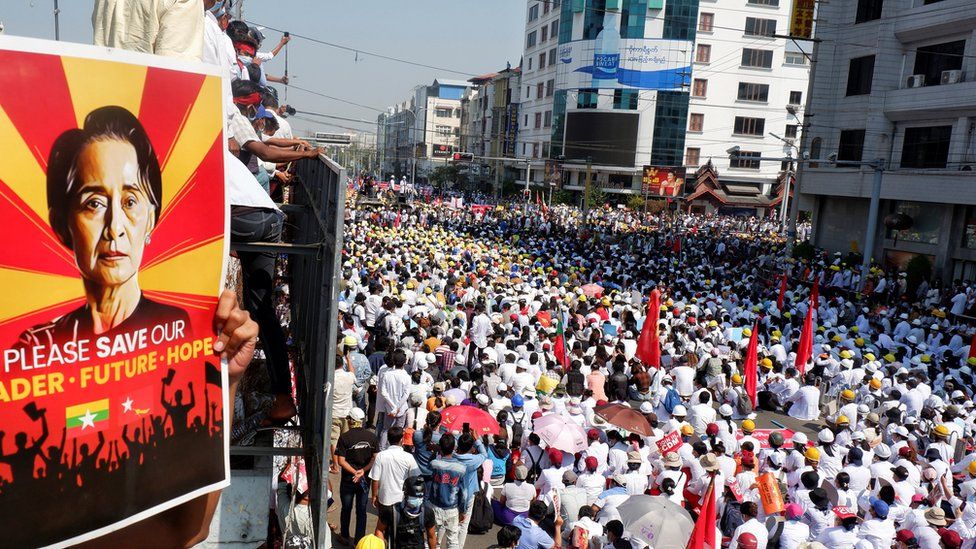 The Burmese military cracked down on anti-government demonstrations, killing hundreds of protesters. For many, the date is seen as a watershed moment in Myanmar.
BBC