After a thorough search for her 69-year-old father, Ella Osei Owusu, finds his dead body.
Her father, Joseph Osei Owusu, a resident of Adam Nana, a suburb of Kasoa in the Central Region, left home for work on December.14.2022, and never returned.
She subsequently reported the matter to the Police at the Kasoa.
It would be recalled that on January 18, 2023, your crime prevention organization, crimecheckghana.org posted on its social media platforms a frail-looking man strapped in a stretcher.
"Agya Osei" had been found half-dead on a pavement around the Weija-Gbawe Municipal Hospital (Akawe).
Crime Check Foundation under its Health Check Series rushed him to the hospital.
Diagnosis revealed that he suffered an ischemic stroke (this is when a blood vessel supplying the brain becomes blocked, as by a clot).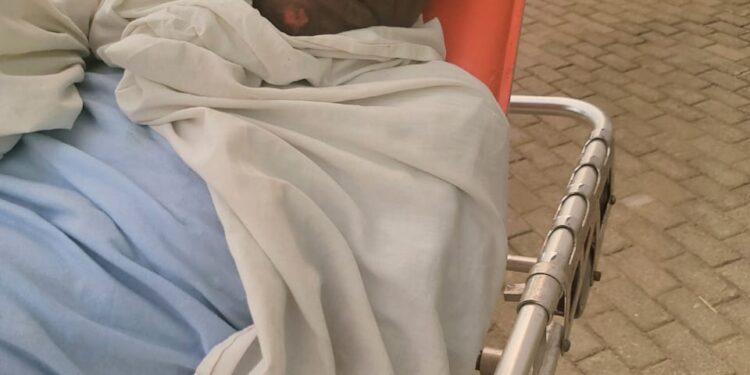 He died two days later on January 18, 2023, at the hospital.
The 23-year-old, Ella, after desperately looking for her father for over a month was hit by the news of his demise when she visited CCF.
According to her, the father had been unwell and suffered memory loss prior to his disappearance.
"My dad could say something and then when you remind him of it he struggles to recall. He once went out and when he returned and I asked him where he went, he told me, he went to pay a debt I owed someone. That was not true," she recounted.
According to her, she got wind of her dad's demise through a friend who had read CCF's publication.
" He was declared missing after a thorough search by the police proved futile"
The body of Agya Osei has been deposited at the Akwe Morgue for autopsy