Crime Check Foundation CCF has rescued heavily pregnant mother of three Samira Yahaya and his herbalist husband from sleeping on the streets. The former manageress of a hotel in Ghana and her husband had to sleep on the streets of Accra with their three little daughters because they have been ejected from the house they lived.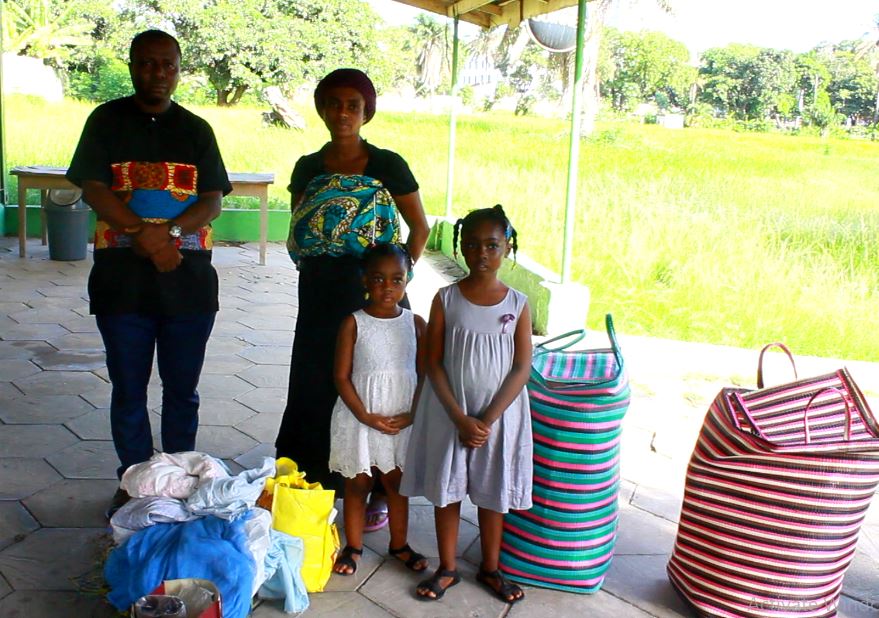 Speaking to crimecheckghana, the middle aged woman said she had been sacked from her job after the management of the hotel she worked for refused to grant her maternity leave. She said after she lost her job life has battered them bitterly. She said her children are out of school because she cannot pay their fees of Eight Hundred Ghana Cedis.
"I am a first degree holder and when I was working I had to report to work at 4am and close at 12 midnight. I got pregnant and the work was stressing me out because I am due to deliver. I complained to the hotel owners about the situation but they disagreed and went ahead to terminate my appointment. Before I lost my job, I paid my children's fees but now I cannot afford and my husband's herbal medicine business is also not lucrative". She said.
Samira said because of the financial difficulties they could not renew their rent so they had to plead with a Prophetess who gave them a single room to live in order to support her church.
"When we began to face financial challenges a prophetess asked my husband to help her in her church because he has the calling to be a pastor. My husband confided in me and I supported him because I thought it was a good thing. We used the opportunity to make our challenges known to the woman and she accepted to give us a place to stay for free whiles we support her church". She said.
The depressed young woman said the prophetess began to be hostile towards them because her church of not more than 20 congregants was collapsing. She said the woman broke their bath and disconnected their electricity source and eventually ejected them out of the house. She said they had to roam the streets of Accra in the lockdown period to find a place to lay their head until Crime Check Foundation came to their rescue.
Samira said because her husband's herbal business is not registered he has to operate in the black market to avoid arrest and it is making the business not to thrive.
"I cannot help my husband grow his business and that makes me very sad. My husband has to be elusive in operating his business because he does not have authorization from the Food and Drug Authority. I wish I could do something about it".
Crime Check Foundation paid Two Thousand Five Hundred Ghana Cedis rent of the couples and added Five Hundred Ghana Cedis for their expenditure. The Foundation counts on the benevolence of the public to assist the couple get back on their feet.
Samira was grateful to those who contributed to pay their rent. "I thank the Ghana Union Association in Italy, Caserta, Ahmadi Ladies in the UK and Prophet Ernest in the UK for their generosity. I pray that God replenish them in thousand fold". She prayed.