Crime Check Foundation, CCF has donated food items to Muslims at Kasoa who are observing the Ramadan. This is in accordance with the teachings of the Holy Quran, which states that those who are undertaking fasting during the Holy month should be supported to break their fast with ease.
CCF made the donation through its donors' home and abroad who annually support Muslims especially the poor to observe the Ramadan without struggling.
The items donated included bags of rice, cooking oil, boxes of biscuits and packs of carbonated drinks.
The Executive Director of CCF, Ibrahim Oppong Kwarteng who presented the items, said apart from highlighting the plight of prisoners, the Foundation has expanded its programmes to include philanthropy to help the needy in society. He said ignoring the needy in the immediate environment whiles helping others outside makes benevolence deficient. "We don't only support the prisons, we help the poor and needy in society through our expanded programmes including the Charity Series, Health Check Series, and Street Charity Series. We don't have to help those outside leaving those who are at home. That is why we have come to donate to you." He said.
The Kasoa North Circuit Missionary of the Ahmadyya Muslim Mission, Muallim Nasir Ahmed Kwarteng admonished others to give generously out of their difficulties. This he said fetches more blessings than extending a helping hand when they have gathered enough wealth. "According to the Quran, the heavier blessings come when you share the little you have with others. Don't wait to accrue more than you want before you help others. Do it out of your struggles and Allah will bless you in abundance." He urged.
The Muallim thanked CCF and asked God's blessing for its donors and partners who continually support Muslims during the Ramadan. "May Allah bless you and may all your endeavors be prosperous." He prayed.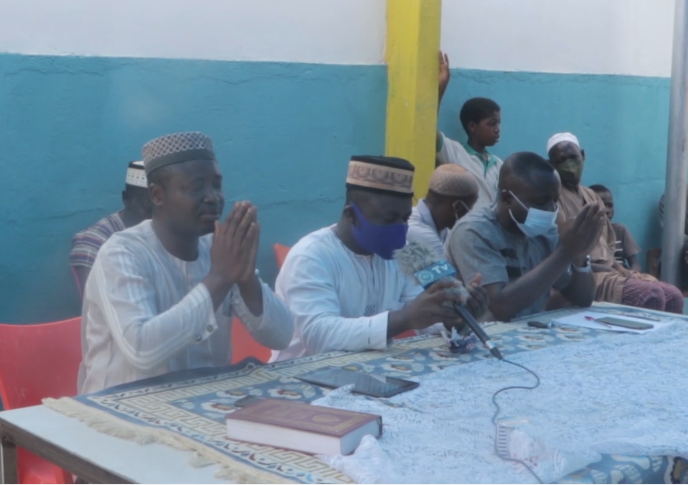 CCF's Charity Series
Crime Check Foundation has through it donors supported many poor individuals and families to ease their hardships.