Crime Check Foundation, CCF has supported four poor bread hawkers with an amount of Six Thousand Eight Hundred and Eighty One Ghana Cedis to boost their businesses. The hawkers Juliet, Mary, Cynthia and Sophia received various amounts of money.
In an initial interview, all four women said they live in deplorable conditions in wooden kiosks. CCF through one of its donors Zoro King based in the UK gave each of them Four Hundred Ghana Cedis for their upkeep.
They tell crimecheckghana in a follow-up interview, that they used the initial Four Hundred Ghana Cedis to pay debt incurred from food they took on credit. They said it has saved them the pestering they were going through from the people they owed.
Juliet said her boyfriend absconded after impregnating her and because of financial difficulties she has been unable to attend ante-natal care. She said in her condition she still has to hawk to fend for her children. "I owed a lot of people because of food so I paid some of the debt with the Four Hundred Ghana Cedis. Now I do not have any money to seek medical attention. My boyfriend left me after I refused to abort the pregnancy." She said.
The poor pregnant woman now received Three Thousand and Eighty Ghana Cedis to enable her seek medical attention and also boost her business. She was grateful to the donors. "I thank the contributors for their kind heart. I ask God to bless their businesses and give them long life". She said.
Mary's story is not different from that of Juliet as her husband also left her leaving her with a child. She said she had been living on the benevolence of people. She received One Thousand Eight Hundred and Eighty-Six Ghana Cedis for her upkeep and to sustain her business. "Our creditors have been insulting us because we could not pay our debt. We would have been starving if not for the benevolence of some people who gave us food during the lockdown". She said.
She asked for God's blessings for the donors. "I ask God to replenish their wealth and grant them long life". She prayed.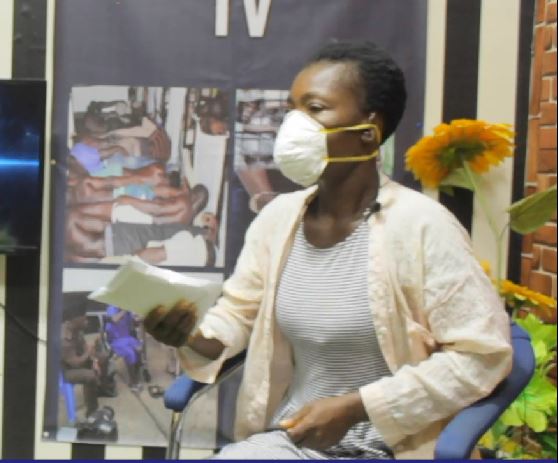 The others, Cynthia and Sophia also received One Thousand and Twenty-Nine Ghana Cedis and Eight Hundred and Eighty Six Ghana Cedis respectively.
The four hawkers got the support through the Foundation's Street Charity Series which is used to solicit support for the needy in society through championing their untold and afflicting stories.