6-year-old Blessing Kann who lives at Kyekyewere in the Ahafo North municipality, goes to school on the back of a neighbour because she was born without legs.
Speaking to crimecheckghana, Blessing said her colleagues subject her to mockery because of her condition.
The kindergarten two girl who attends the Kyekyewere M/A Primary School said she only knows that her mother has travelled so she lives with her sibling.
"I can't walk to school because I don't have legs so somebody has been carrying me. My friends laugh at me that I don't have legs and because of that I cry" she said amid sobs.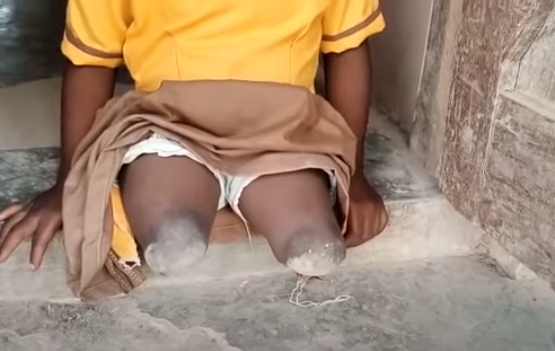 Where are her parents?
The Headmaster of the school who spoke on condition of anonymity, indicated that when the girl was born, the authorities of the community considered killing her because of her weird nature.
He said due to that, her parents hid her in the room till the Assemblyman in the area saved the little girl when he happened to chance on her and asked them to enrol her in school to build her future.
"Blessing's mother bled profusely when she was giving birth to her. When she was born, the community authorities said she was a curse and decided to kill her. Luckily, the Assemblyman discovered her and saved her. The teachers also rushed to her aid and brought her to school." He said.
The headteacher was hopeful that Blessing will have a bright future if she does not become bothered about her condition. The man said her poor parents struggle to cater for her making life more unpleasant for the small girl.
"The girl is a good pupil and she has managed to reach KG 2. We are optimistic that she will make it in life if she does not get saddened by her situation when she grows." He said.
CCF's intervention
Crime Check Foundation, CCF is appealing to the public and donors to come to the aid of the little girl to help her have a bright future.
The Charity Series
The series is used to solicit support for struggling individuals and families.