45-year-old Hannah Frimpong struggles to raise Twenty-Ghana Cedis to start a business.
Mrs. Frimpong said because of hardship she left her husband and children to live with her younger sister in Kumasi to work to support the family. Speaking to crimecheckghana, she said though she has been introduced to a business she is unable to make a deposit of Twenty Ghana Cedis for her madam to give her items to sell.
"Life has been difficult. I had to leave my husband to come and find a job but how to start the business has become a problem. My madam is demanding that I make a deposit because of her past experience with other clients. She told me if I sell a box of the items my profit will be Four Ghana Cedis but it is better than being idle." She said.
She said this was after her husband asked her to find a job because his lotto business does not yield enough profit making him unable to fend for the family. She said because of the difficulties her children have to do petty jobs to be able to pay their fees.
"I have four children and two of them are in Senior High School. The Older child who is in her final year labours to pay her fees. The rest are in basic school and they are with their father but he does not take care of them." She said.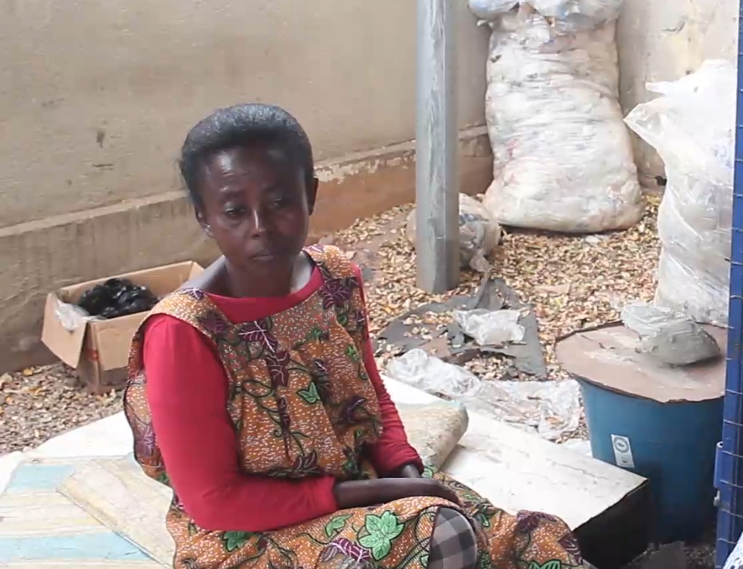 Support from her family
Mrs. Frimpong said her sister is not in the position to support her. "I get sad that I have left my children behind. I visited them two weeks ago but the situation is still the same. That is why she asked me to stay with her and sell to support the children." She said.
The mother of four said she would like to do foodstuffs business but her plan is hindered by financial difficulties.
Support from CCF
Crime Check Foundation, CCF through one of its Holland based donors, popularly known as Mama Tina gave Mrs. Frimpong Five Hundred Ghana Cedis to start her business.
Appreciation to CCF and its donors
Mrs. Frimpong was grateful for the support. "May God bless CCF and Mama Tina for coming to my aid. May He grant you long life and progress." She prayed.
Street Charity Series
CCF's Street Charity Series is used to seek support for individuals who struggle to make ends meet on the street.