37 year old Esi Amoo who lives at Madina in the Greater Accra Region of Ghana has her tongue falling-off her mouth as her husband who is a security guard's efforts to raise Four Thousand Ghana Cedis (equivalent of 691.44 dollars) for her medical bills have proven futile.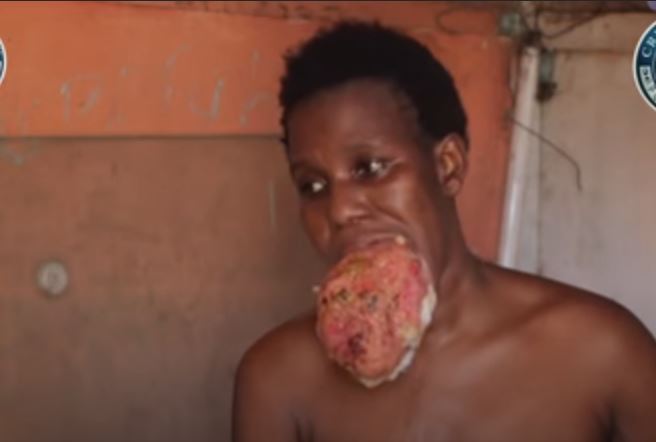 Esi said her current condition which started with a little boil on her tooth gum during the pregnancy of her third child caused her to vomit blood often. She said her gum got swollen and eventually affected her tongue. According to her, shortly after she gave birth to her last child, her gum got swollen and fell-off, plunging her teeth out of her mouth. "During the pregnancy of my third child, something like a boil sprouted on my gum but I thought it was associated with the signs of the pregnancy so I did not take it serious. It was after I delivered my last child that it came out of my mouth so I started seeking treatment." She narrated.
Esi said she was later diagnosed of tongue tumor at the Korle-Bu Teaching Hospital where doctors demanded Five Thousand Ghana Cedis. The mother of four said the tumor bleeds anytime she tries to eat and because of that she has to be wrapping cotton wool beneath her tongue to absorb the blood. She said in a bid to treat her sickness, she earlier used self-prescribed medications from over the counter chemical shops. This she says has cost her husband all his savings hence his inability to raise the said amount requested by doctors at Korle-Bu. "I went to the Achimota District Hospital and they referred me to the Korle-Bu Teaching Hospital. The doctors said they will need Five Thousand Ghana Cedis so I can undergo surgery but because I do not work any longer, the burden has fallen on only my husband who has been trying to raise the money but to no avail. My husband has really helped me because when I calculate the pre-medication expenses that he financed, it amounts to almost Two Thousand Ghana Cedis." She said.
According to Miss Amoo, her family has been unsupportive as she recounts how she received a sum of only Ninety Three Ghana Cedis from them as their contribution. "I was here one day when I received a mobile money alert on my phone. When I checked it was a transaction of Ninety Three Ghana Cedis from one of my family members. I had no choice than to keep quiet and accept it like that though I told I needed Four Thousand Ghana Cedis." She narrated.
Esi said they are also currently faced with accommodation challenges as they do not have money to rent a room so they live in a rented wooden kiosk. She said they will be rendered homeless if they are ejected from that kiosk because they do not have any other place to find shelter.
Crime Check Foundation, CCF through two its group donors, the California Classic Ladies based in California and Friends of Wool rich in the UK gave Esi One Thousand Five Hundred Ghana cedis to make a deposit at the hospital as it counts on the benevolence of individuals and organizations to come to the aid of the poor woman.
Esi's husband who was very appreciative thanked the donors for the support. "Thank you and God bless you for the support because I do not have such an amount of money at the moment." He said.
CCF's Health Check Series aims at soliciting support for individuals and families who do not have the means to access medical care.