32 year old hawker, Elizabeth Kukuaa is struggling to get medical care as her negligent husband left her to her fate to battle for her life after a truck tramped on her leg rendering her paralyzed.
Giving an account of the accident, the sachet water seller said on one unfortunate day during her sales, a truck carrying bags of Dangote cement run-over her leg as she was trying to sell to the truck driver. She said her leg got broken so she was rushed to the Korle-bu Teaching Hospital where she spent all her savings on medical bills.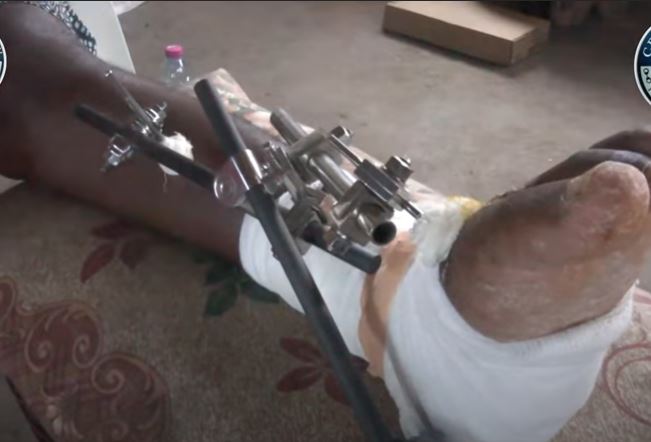 The mother of four said since then she has been going through financial difficulties as she is not even able to afford a day's meal for herself and family. "What to eat has even become a problem. My husband who is supposed to be helping me in this crucial time has also left me to take care of our four children in my condition. If my neighbors don't help us with food, we sleep on empty stomach" Kukuaa told crimecheckghana.
She recounted that because of financial difficulties she sold a refrigerator which belonged to her husband and his lady friend. She said the act landed her into police custody and her husband was unconcerned until a benevolent individual facilitated her bail.
Kukuaa said the management of the Dangote Company gave her One Thousand Ghana Cedis as compensation but after that she has not heard from them. "After the company gave me the money the driver used to visit but he stopped at some point. I don't hear from them again." She said.
Crime Check Foundation, CCF through one of its Norway based donors, Nana gave her Five Hundred Ghana Cedis for her upkeep and medications.
"God bless you and grant you long life. May God never cause you to lack so that you will continue to support others." Kukuaa showed her appreciation to the donor.
CCF's Health Check Series aims at soliciting support for poor individuals who do not have the ability to access medical care.