"Life has been difficult for me. I have undergone surgery and doctors have advised me to shun hawking but I can't because I have to pay my rent and cater for the family. I take a drug which reduces the pain to enable me to walk well," That is the narration of 46-year-old Helena Afum when crimecheckghana met her on the streets selling plantain chips.
Her struggles
The poor mother of three said her husband abandoned her after he travelled abroad so she has to bear the burden of their children alone. This she said has been difficult because of the meagre income she makes from her business.
"The business is now picking up gradually though it is difficult. The market has gone bad because these days we are many here so the competition is high," she said.
The danger in doing her business in a heavy traffic cannot not be overlooked as she said she fear losing her life. "Sometimes drivers knock people down and ignore them with the excuse that the street is not a market. The other day, a driver drove-off after he knocked down a lady and it was another driver who paid the cost of her hospital treatment so it is very dangerous," she indicated.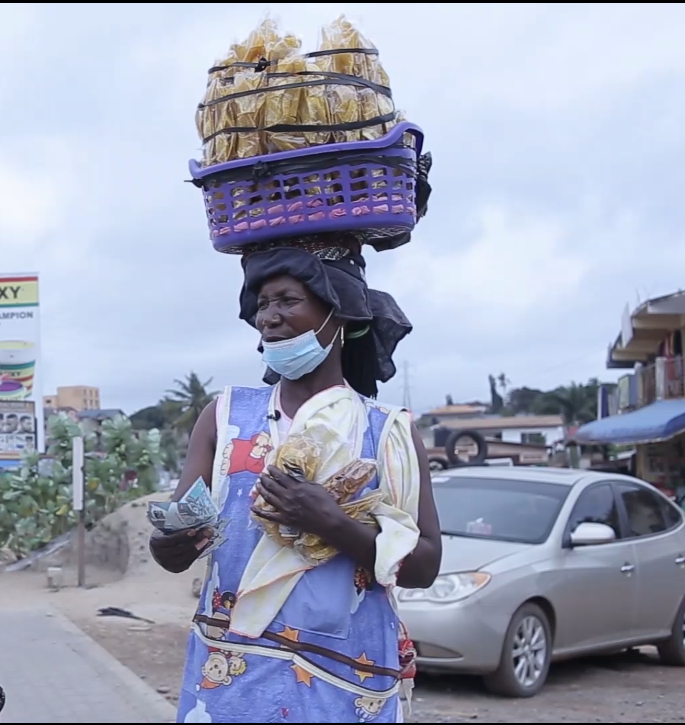 Afum said she now faces ejection from her landlord because she is unable to renew her rent. Through her struggles, she said there is no flicker of hope as even her family and relatives look up to her.
CCF's support
Crime Check Foundation, CCF supported her business with an amount of Five Hundred Ghana cedis through one of its UK based group donors, Adehyeman Association as it counts on further support from the public.
Appreciation
"God bless you for the support. May God prosper your business and restore in double-fold anything you lost for my sake," she prayed.
The Street Charity Series
The Street Charity Series is used to seek support for individuals who struggle to make ends meet of the street.