30 year old Daniel Ameyaw has threatened to commit suicide because his efforts to raise Twelve Thousand Ghana Cedis to enable him undergo surgery has been unsuccessful.
Narrating to crimecheckghana, his predicament, the distressed young man said a boil sprouted in his teeth and made his gum swell. He said it eventually developed to affect his jaw causing it to enlarge. Daniel said he was diagnosed of gum tumor when he went to the hospital. "One day I felt a sharp ache in my tooth gum so I thought it was whitlow (locally known as 'kaka') but when I went to the hospital, doctors said it was rather a strange tumor disease which could only be treated through surgery."
Daniel said he experiences agonizing pain when the tumor bleeds and stinking fluid oozes out of it through his mouth. He said because of that his bosses have dismissed him telling him they cannot work with a sick person. The seemingly helpless man said because of financial difficulties he had to come and live with his friend so that his friend can support his upkeep.
According to him, his efforts to seek medical care have been fruitless as the cost of the surgery increases given to the severity of the ailment. The despaired man said his family has not been able to help him raise the money because they are not well-to-do. "Anytime I felt unbearable pains I had to visit the hospital but doctors do not give me any medication. Initially when I went to the hospital the doctors said the surgery would cost Four Thousand Ghana Cedis but I couldn't afford it. Since then I frequent the hospital and anytime I visit the cost goes up. Now, the last time I visited they say they will need Twelve Thousand Ghana Cedis before they will attend to me surgically. I went to my village to see if my family members would contribute something for me but when I got there, the village was almost empty. My parents are peasant farmers and have also been struggling to fend for themselves." He recounted.
Daniel said because of the abuse and the mockery that he is subjected to by neighbors he thought of taking his life to end his struggles.
Mother to Daniel's friend said, she used to previously caution her son against accommodating Daniel because she feared that he could die in the house which will give them legal problems. She said her son insisted on keeping Daniel with him because he was his friend and could not abandon him to go through difficulties. She said she later agreed with his son but sadly, she does not have the money to support Daniel. "When I saw Daniel with my son, I was afraid but because he is going through unbearable pains I just had to allow him stay with us. I wish I could help him but things have been very tough for me so please help him, he is very respectful." He appealed.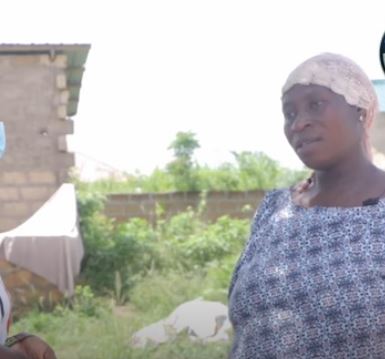 Crime Check Foundation, CCF through six of its group donors, supported Daniel with Six Thousand Five Hundred Ghana Cedis as initial payment for the surgery so the hospital can start the processes as soon as possible as it counts on the benevolence of individuals and organizations to complete the payment.
Receiving the money, the distressed young man showed his appreciation to CCF and the donors. "God bless the contributors and grant them long life. May God restore in double-fold what they have donated to support me." He prayed.
The gesture forms part of the Foundation's Health Check Series which seeks to support deprived individuals who are unable to access medical care because of their impoverishment.