36 year old widow, Mercy Nyarkoa has had a 'torrid time' in her life as her husband has committed suicide because he was unable to afford the cost of surgery for his child to undergo. Her sick son unfortunately also passed on leaving her in gloom.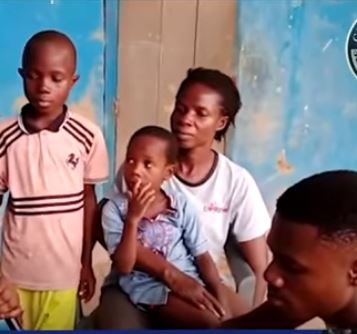 According to Mercy, their second child fell ill and he was diagnosed of cancer after series of test was conducted on him at two different hospitals. She said after she and her husband had paid their son's hospital bill of Six Hundred Ghana Cedis they struggled to raise the cost of surgery for the little boy. She said after her husband made unsuccessful attempts to raise the money he poisoned himself and drowned in a river. "My husband became frustrated and left the house because all his attempts to save our son failed. I was home when one of his friends panicking ran to tell me my husband has told them he would kill himself than to see his son pass away. I hurried to follow up on him but I did not see him. After four days of vigorous search for him, we found him lifeless at the bank of a river." She told crimecheckghana.
The desolate mother of four said after the demise of her spouse, she managed to take her son to the hospital to undergo the surgery with support from neighbors but the child died. She said life is hitting her hard as she is unable to make ends meet with the meager amount of money she makes from the work she does on people's farms. Mercy said taking care of the remaining three children has been difficult for her because of financial difficulties. Her family, she said have abandoned her because she gave birth out of wedlock. "My son couldn't survive after all my efforts. I help people to pick their fruits on their farms during harvest and that is what I depend on to fend for my children. For some time now, I don't get offers from farm owners any longer and it is making life unbearable for me. My family don't care about me because my husband did not pay my bride price." She said.
Crime Check Foundation, CCF through one of its Canada based group donors Ghanaian Women Aglow, gave Mercy Five Hundred Ghana Cedis for her upkeep.
She thanked CCF for the support. "God bless you and increase your boundaries. May your businesses grow to greater heights." She prayed.
CCF is appealing to generous individuals to come to the aid of Mercy to enable her cater for her children.
The Foundation's Charity Series is used to solicit support for poor and needy individuals and families.