22 year old Abena Tawiah's father, Yaw Anim is struggling to raise Twenty Four Thousand Ghana Cedis being the cost of an injection to save her daughter from a strange tumor-like disease which is slowly killing her.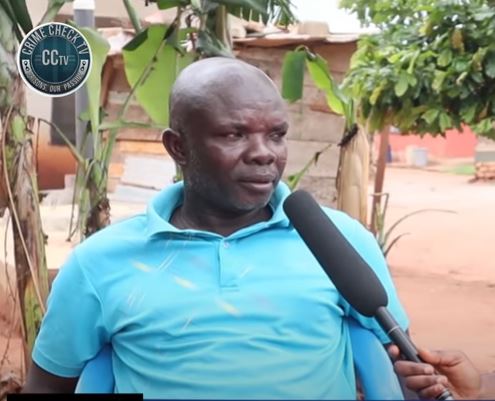 Mr. Anim told crimecheckghana that her daughter's sickness started with a small boil which gradually swelled and totally blinded her right eye. He said at the early stage of the disease he took her daughter to the hospital to undergo surgery but the ailment after sometime re-emerged. He said he had to make her undertake herbal treatment at home because the initial operation bankrupted him making him unable to get further medical care for her. "The herbal treatment saw a great improvement in her health because the boil shrank. The herbalist who was treating her left and when the ailment started getting worse we couldn't find him. I also did not have money to take her back to the hospital." He said.
The depressed looking man said he gave up efforts to raise the Twenty Four Thousand Ghana Cedis and trying to reach the herbalist. He said he later took Tawiah to the hospital but doctors did not attend to her because they couldn't diagnose exactly the cause of the disease. "The last time I sent her to the hospital was two years ago. The doctors first told me that it was cancer but they came later to tell me it was a different illness which they were struggling to detect. When they asked me to take her back home I lost hope." He said.
An aunty of Tawiah said for the sake of Abena Tawiah she had to take a force transfer to work in the village to see to her welfare. She said Abena's spinal cord has been affected as she bows often at night to sleep due to the unbearable pains she experiences when she lies prostrate. "I had to make Tawiah come to stay with me because of the love I have for her. She suffers a lot and when I see her in pains I become restless. I have also tried to help her get medical attention by soliciting support on social media but to no avail. Please come to her aid because the pain is too much for her. She can't sleep at night." She appealed.
Crime Check Foundation, CCF through one of its Norway based group donors, Chrisma Men's Fellowship gave Mr. Anim One Thousand Ghana Cedis for his upkeep as it looks forward to the support of other individuals and organizations to enable Tawiah undergo surdery.
Receiving the money on behalf of Mr. Anim, Tawiah's aunty thanked CCF and its donors for the support. "God bless you for your contribution. May God grant your heart desires so that you continue to flourish." She prayed.
CCF's Health Check Series is used to seek support for sick but poor individuals who cannot access healthcare because of poverty.