28 year old Eric Amoah Obeng, risks being paralyzed as his spinal cord has been damaged after he slipped and fell. He has been struggling to raise Thirty Five Thousand Ghana Cedis to undergo emergency surgery.
"After I have had my lunch with my friends and we were returning to our post, a message I received on my phone caught my attention so I stopped to check it. The path on which were walking was rough so I did not know what happened, only to realize I have been hospitalized after I gained consciousness." Mr. Obeng narrated.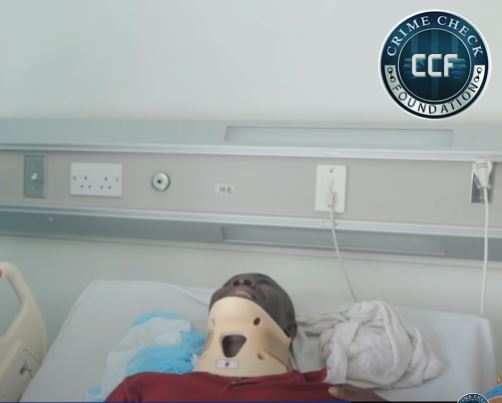 The security guard said doctors at the hospital told him he would have to undergo surgery because his spine and his neck have been badly damaged. Poor Obeng said doctors demanded a deposit from Thirty Five Thousand Ghana Cedis being the total cost before they can attend to him.
According to one of Eric's aunties who is seeing to his welfare, the poor man's dad is deceased and his mother is in her ripe old age so he struggles to fend for himself with the meager income he makes from his job. She said it is through the contribution of his friends and church members that he has been able to afford his bills. The woman said they have been able to raise Twelve Thousand Ghana Cedis as she sought support to be able to raise the Twenty Five Thousand Ghana Cedis deposit for the surgery to commence. "Eric is at the verge of paralyzing because the doctors told me that if he does not undergo emergency surgery, he wouldn't be able to walk again. He is in great distress and I am pleading that benevolent persons should come to his aid. " She appealed.
Crime Check Foundation, CCF with its mandate of reaching-out to sick but poor individuals added its voice to that of Mr. Obeng and his aunty and appealed to benevolent individuals and organizations to come to his aid to be able to raise the full amount of the Thirty Five Thousand Ghana Cedis to successfully undergo the surgery.
CCF's Health Check Series is used to solicit funds for poor persons who cannot access healthcare because of excruciating poverty.