11 year old Kweku Ofori Nyarko is unable to mingle with his friends because a strange disease which is killing him slowly has caused his mouth to swell abnormally and his mother, Vida Nyarko, 53 is struggling to raise over Fifteen Thousand Ghana Cedis to enable him undergo surgery.
The struggling widow said her son's ailment began with small swells on his forehead when he was a toddler. She said Kweku's grandmother who was ignorant of what was going to befall the little boy, said the swell was just some minor boil so she decided to give him home treatment until she realized that the ailment was getting out of hand. "When Kweku was two years old he developed boils so my late husband asked me to take him to his grandmother for treatment. There was no improvement in his health so immediately I took him to a nearby hospital where he was admitted for preliminary medication." She told crimecheckghana.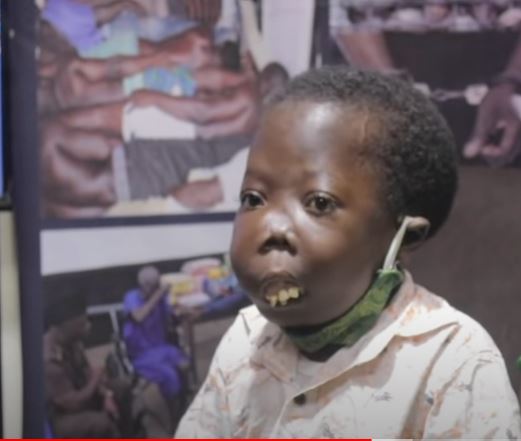 Madam Nyarko said as time went on she couldn't pay his son's medical bills so she stopped seeking health care for him until her husband passed and she used his retirement benefit to get further medical care for him. She said doctors referred little Ofori to the Korle-Bu Teaching Hospital for surgery. "When I took him back to the hospital, doctors diagnosed him of a strange disease which they said could only be corrected at Korle-Bu. At Korle-Bu the doctors asked Kweku to run series of medical tests to ascertain the exact problem before they would operate on him." She said.
The poor widow, who plies her 'kenkey' vending business on credit, said after the series of tests, the doctors demanded Fifteen Thousand Ghana Cedis before they would proceed with the surgery. She said because she couldn't come by the money, for three years she has not taken Kweku to hospital and this has worsened the little boy's ailment as it has rendered his hearing impaired. "I struggled to foot the bills for his tests but through the contributions of church members and friends it became possible. I take the corn I use to prepare the kenkey on credit so the business is not lucrative to enable me raise the amount demanded for the surgery." She said.
Mrs. Nyarko said Ofori has his education disrupted because his colleagues have turned him into a laughing stock. "Kweku has refused to go to the next class because he has become a scare crow to his colleagues. Unless his teacher warns the class not to talk about him, he won't be able to attend the class. This has affected his studies." She said.
Crime Check Foundation, CCF with support from three of its donors based in Germany, UK and the US, Jemima Amponsah, Rita Adomaa Marfo and Hajia Barikisu gave the desolate widow One Thousand Four Hundred Ghana Cedis for her upkeep and as business capital. Another CCF donor based in Holland, Linda Owusu gave her an additional One Thousand Ghana Cedis to support his son who is in his final year at the University.
The Foundation is appealing to individuals and corporate organizations to come to the aid of Ofori Nyarko to enable him undergo surgery.
CCF's Health Check Series is used to solicit funds for sick but poor persons who cannot access healthcare because of poverty.