10 year old Kofi Asante helps his 27 year old mother, Francisca Asante to hawk 'pure water' to enable him meet his school needs because his father has abandoned him.
Francisca in an interview with crimecheckghana, said her boyfriend refused to take responsibility for Kofi's upbringing and ignores her anytime she calls on him to give her money for the upkeep of their son. The worried lady said because of financial challenges she could not afford her son's school demands and realizing the hardship she was going through, little Kofi decided to help her hawk during the COVID-19 break to enable him save some money to pay his debt when school resumes. "At the time Kofi was two years old, my boyfriend impregnated another lady whiles I was still living with him so I decided to jilt him. He now lives with his new girlfriend so he does not care about the children. I used to call him to ask for money for the children and because of that he changed his phone number." She narrated to crimecheckghana.
The mother of three said she cannot afford to rent a room so she has to sleep on the bare floor on the veranda in front of her mother's room whiles Kofi and his siblings sleep in the room with their grandmother. She said though Kofi helps her, the hardship persists as she only earns Eight Ghana Cedis from 4 bags of the water she is able to sell whiles Kofi earns Three to Four Ghana Cedis a day. "Kofi saves the money he gets from his sales and then I use my profit for our upkeep. When market is good, I am able to sell about 7 bags and earn Fourteen Ghana Cedis from which I pay for my transport and buy food." She said.
Crime Check Foundation, CCF through one of its US based group donors, Agona Abusua of Washington DC, gave Francisca Five Hundred Ghana Cedis for her upkeep.
Poor Francisca was grateful to CCF and its donors for the support. "God bless you for this support. May God shower his blessings on your business and restock what you have gifted me so that you never lack." She said.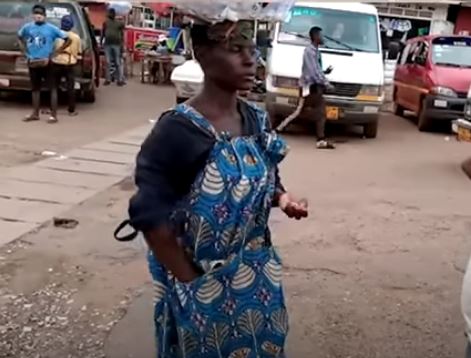 CCF is appealing to kind individuals to come to the aid of Francisca to enable her cater for her son's school needs and help her rent a room.
The CCF's Street Charity Series is used to solicit support for poor individuals who struggle to make ends meet on the street.