20 year old physically challenged hawker, Kofi Appiah who hails from Kumasi in the Ashanti Region of Ghana has been abandoned by his parents to struggle for his life because of his disability.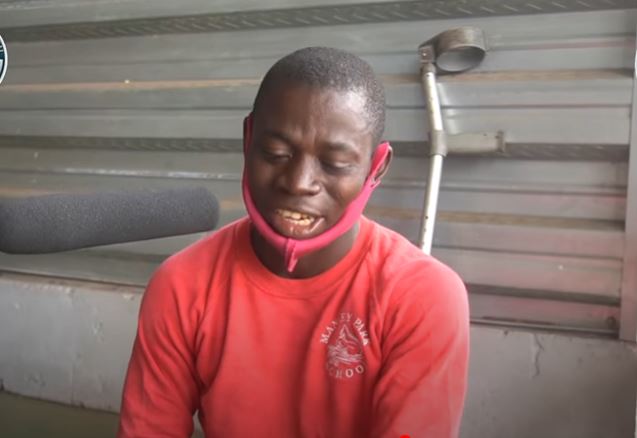 The poor young man said his mother has been starving him and has been unconcerned about his well-being. He said the manner in which he is treated, makes him feel he is an outcast so he decided to find out why he is constantly subjected to such ill-treatment. In a bid to unravel the reason behind such treatment, Kofi said he confronted one of his uncles about the situation and he was told it was because he was physically challenged. "My mother does not give me food and she does not care about me. I did not understand because I have not wronged her in any way to deserve such treatment from her so I went to ask my uncle about it and he made it blunt to me." He told crimecheckghana.
Walking impaired Kofi said because of the abuse he is going through, he decided to hit the street to sell nose masks and sanitizers to fend for himself. He said his situation makes it challenging for him to hawk for a whole day making him unable to make enough sales. This he said has made life unbearable for him as he sometimes has to sleep on empty stomach. "I have hawked the whole morning but I haven't sold anything. The day market is good, I earn Twenty Ghana Cedis but because of my disability I am unable to hawk long enough to make enough sales. If I come and I don't sell anything I go home and sleep without eating anything." He said.
Crime Check Foundation, CCF through one of its UK based donors, Prophet Ernest, gave Kofi, One Thousand Ghana Cedis to boost his business and for his upkeep.
Receiving the money, an elated Kofi expressed his gratitude to the donor. "I am very happy. God bless the donor for the support." He said.
CCF's Street Charity Series aims at supporting poor individuals who have been struggling to make ends meet on the street to gain livelihood.
The Foundation is counting on the benevolent support of individuals to rescue poor Kofi from the street.