Heavily pregnant tiger nut seller, Ohemaa has passed away after suffering excessive bleeding in labour leaving behind five children.
Ohemaa a native of Bodwesango in the Adansi North District of the Ashanti Region was discovered by Crime Check Foundation selling tiger nuts on the street of McCarthy Hill with her protruding stomach.
The mother of five when asked what compelled her to be hawking on the streets said, "The father of my four children and I have divorced so he does not take care of the children. Also, my sister's daughter is in my care after she passed away. The child cries when I do not get money for her so I have to try my best and work in my current condition".
The Foundation through the support of donors helped Ohemaa in diverse ways for a sustainable living.
Sadly, she passed away during childbirth at the Winneba Government Hospital in the Central Region.
In an interview with Ohemaa's first child, Mommie, she said her mother was very much appreciative of the support CCF had given her. She thanked the donors for assisting her mother till her sudden departure. "God bless them and replenish anything they have lost because of my mother".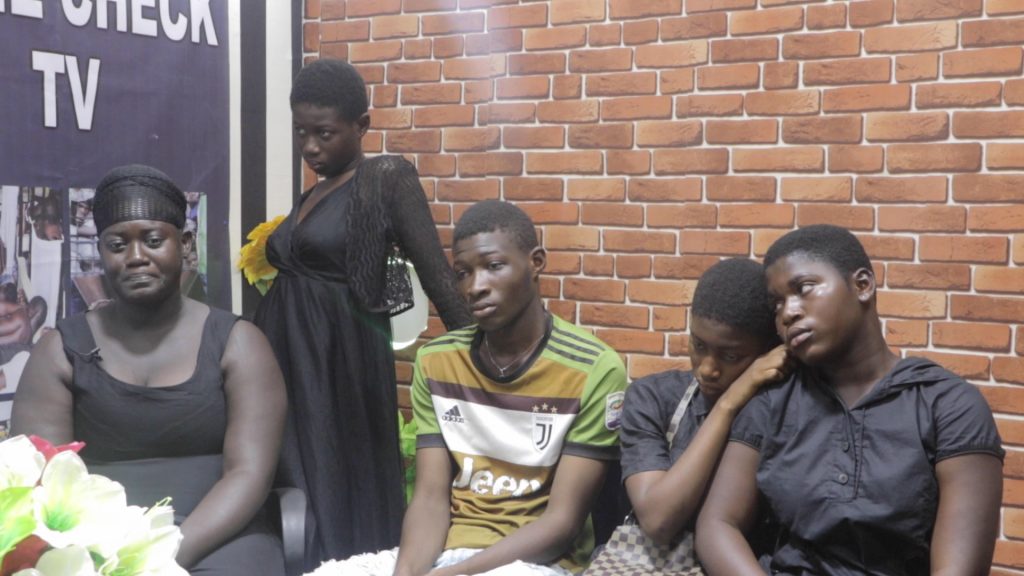 Ohemaa's second child, Evans says he could not believe her mother had passed away. He accepted the reality two days after the death of the mother. "A week before her death, I paid her a visit and we had good memories together as I made her laugh a lot. I really cried because my mother was the only helper I had. She is the one who gives me money for my upkeep everyday".
Evans who is a Senior High School graduate says he has no hope of furthering his education now that they have lost the breadwinner of the family.
A US based donor, Reynolds, touched by the death of Ohemaa has given the children an amount of one hundred Dollars for their upkeep.
CCF is appealing to the public to help support the children by donating to the Ohemaa Kids Education Support Fund of the Foundation.