31 year old Peter Kwame Tawiah who comes from Ajumako Ntumi in the Central Region has been released from the Awutu Camp Prison.
The release was facilitated by Kwabena and Ekua, a U.S based couple through Crime Check Foundation CCF. This forms part of the Foundation's Petty Offenders Project which seeks to release petty offenders jailed for their inability to pay court fines imposed on them.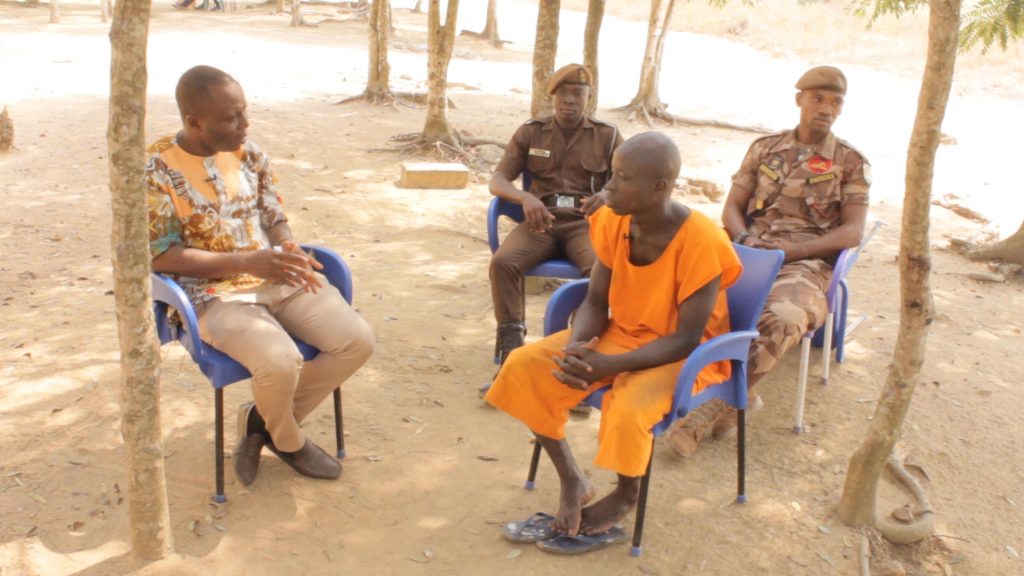 Tawiah who was charged with assault and threat said he was suspected to be criminal when a group of ladies spotted him with a knife and a toy gun at a riverside. He said they were alarmed and started shouting but he left the scene and walked towards home.
On his way home, he said he was arrested by policemen who found the knife and gun in his possession. "I was stopped by policemen who searched me and found the toy gun together with the knife on me. Whiles I was at the police barrier, the townsmen approached me and told the police officers that I am a criminal so they took me to the police station at Breman Asikuma". He told crimecheckghana.
The young man said he believes he was tagged a criminal by the police because he has been incarcerated before. "The officer knew I fought with my friend some time ago and I was jailed for two years. Because of that he thought I am a criminal". He said.
The inmate said he enquired from the police about his offense but he had no response. "The Sergeant said they should send me to the cell but I struggled with the policemen. Amidst the struggle, I bit the finger of one of the policemen". Tawiah said.
31 year old inmate said he was sent to court where he was charged with assault and threat. He said he was asked to pay a fine of five hundred and sixty Ghana cedis or in default serve fifteen months in prison.
Peter Kwame Tawiah was glad that his fine has been paid after serving seven months of his term. "I thank Kwabena and Ekua for giving me hope in life again. God bless you and bless wherever you had the money from".