The days of suffering seems to be over for 40 year old Enoch Appiagyei as Mfantseman Kuw in Italy surprise him with trading capital.
The father of three comes from Dobeng in the Central Region of Ghana and has been selling car dusters on the streets of Accra for the past ten years as his only means of survival.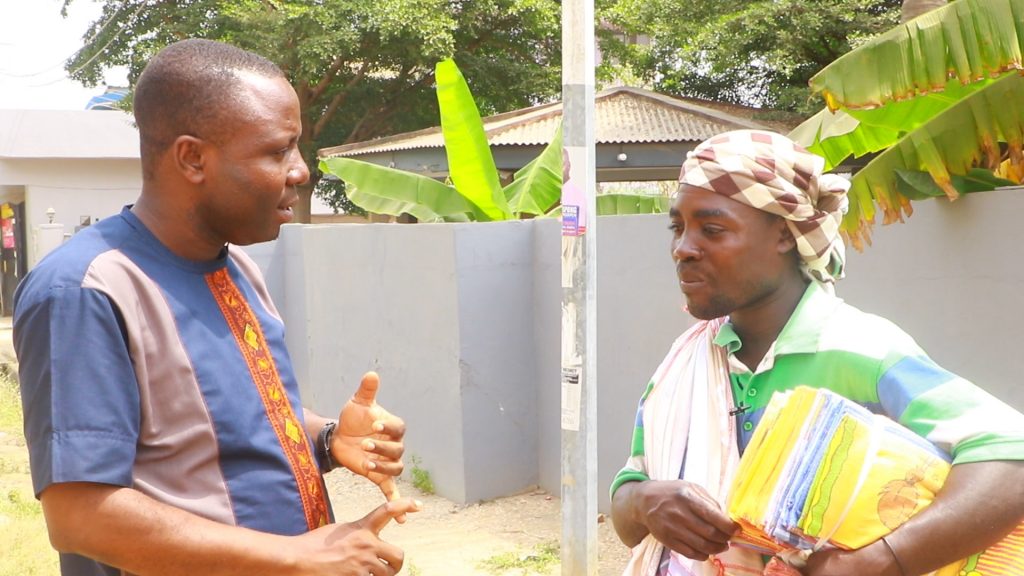 Appiagyei says he is an orphan who is struggling to make ends meet in life. "My parents passed away at an early age so I have been selling to cater for myself. My wife's parents too are no more so there is no one to help us". He tells crimecheckghana.
The hardworking man says he started his car duster business with an amount of one hundred and twenty Ghana cedis which could buy a few dusters, because he could not afford to buy the whole set estimated at six hundred Ghana cedis.
He says life is difficult for him and his family as they depend on twenty Ghana cedis as upkeep for the day. "My wife makes sure she spends ten cedis on the children and use the remaining money to provide food for the whole family in the evening". He said.
Besides, he claims his wife sells toffees and her income is not enough to cater for the family and his rent which is four hundred and twenty Ghana cedis a year is due but he has no money to pay for it.
A teary looking Appiagyei says he gets sad when he sees his well to do uncle who has refused to offer a helping hand to him. "When my mother was alive, she took care of my uncle till he had a good job and started earning substantial sums of money. My uncle sees me in traffic selling but has not offered any help to me. I even give him some of my duster for free." He tells crimecheckghana.
To support industrious persons on the streets, a group based in Italy Mfantseman Kuw, through Crime Check Foundation has given the street hawker six hundred Ghana cedis as trading capital for his car duster business.
Enoch who was full of tears showed appreciation to the group. "God bless them.
The kind gesture was made possible through CCF's Street Charity Series which seeks to empower street vendors and assist them with to enable them live in dignity.