31year old Kwasi Badu who hawks on the streets of Accra says he walks seven miles every day to purchase items because of financial difficulties.
Badu who resides at beach road, a suburb of Accra has to struggle to survive after staying with his unemployed sister in the city of Accra. "I left my parents in the village and decided to live with my sister in Accra. She asked me to go out and work because she cannot take care of me, so I had to go and stay with my friend who works on the street". He told crimecheckghana.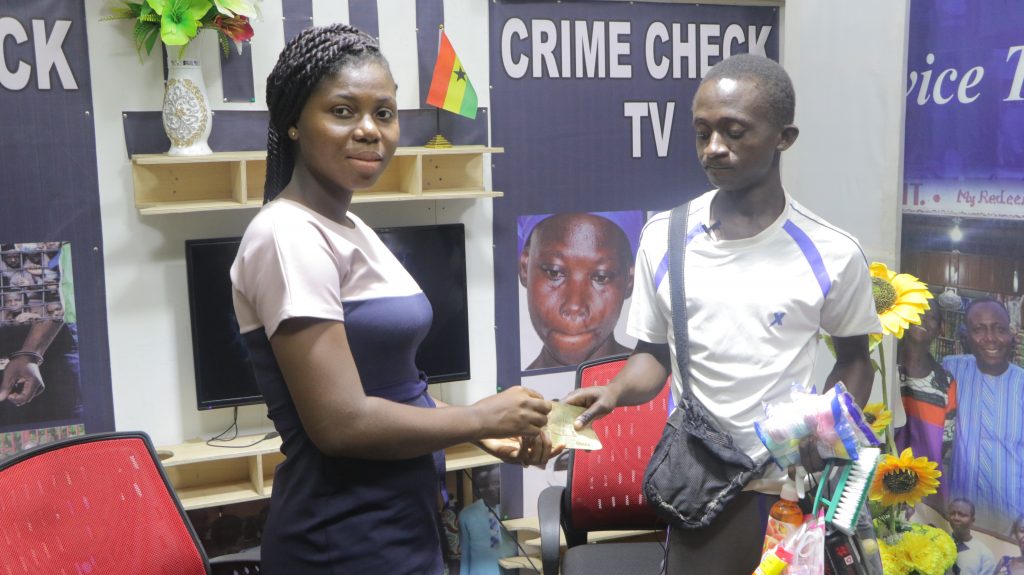 The energetic looking young man who limps on one leg, said he believes he has to work hard so he can afford his daily meals. "The Bible says hands that do not work, must not eat so I have made up my mind to work very hard even though it is not easy. I think working on the streets is better than robbery". He said.
According to him, he started his street business in 2015 with a capital of fifty Ghana cedis. and sells items amounting to twenty Ghana cedis a day. "I sometimes get disappointed when I get twenty cedis as my sales for the day. I feel like giving up most at times but I encourage myself and continue the business." He said.
Badu said he gets frustrated when he has to go home in the evening without selling anything. "I walk from my house to Sakaman because I cannot afford to use part of the money as transport fare, so I get heartbroken if I do not sell anything on a particular day".
Following his story, a donor of Crime Check Foundation, Janet Wilson has supported him with five hundred Ghana cedis to help him expand his business.
Kwasi Badu was grateful to Madam Janet Wilson and said some words of prayer for her. "God bless Madam Janet for remembering the needy. I pray God replenishes everything she lost because of this good deed so that she will get money in abundance to help the needy always".
The CCF Charity Check Series aims at supporting the poor, the weak and the vulnerable who have been hard hit by the uncertainties and cruelties of life.