36year old Sarah Yeho cries for help as her 14year old son Joesph Forjour lies on his sick bed at the Korle-Bu Teaching Hospital in the Greater Accra Region of Ghana.
According to Sarah, native of Twifo Praso in the Central Region of Ghana, her son suffered skin disease which looked like burns one year ago. "Joseph went to visit his father during one holiday and I was called that some rashes that looked like burns had appeared on the body. So he came home and I started treating it at home but it worsened by day. So I took him to the Twifo Praso Government hospital".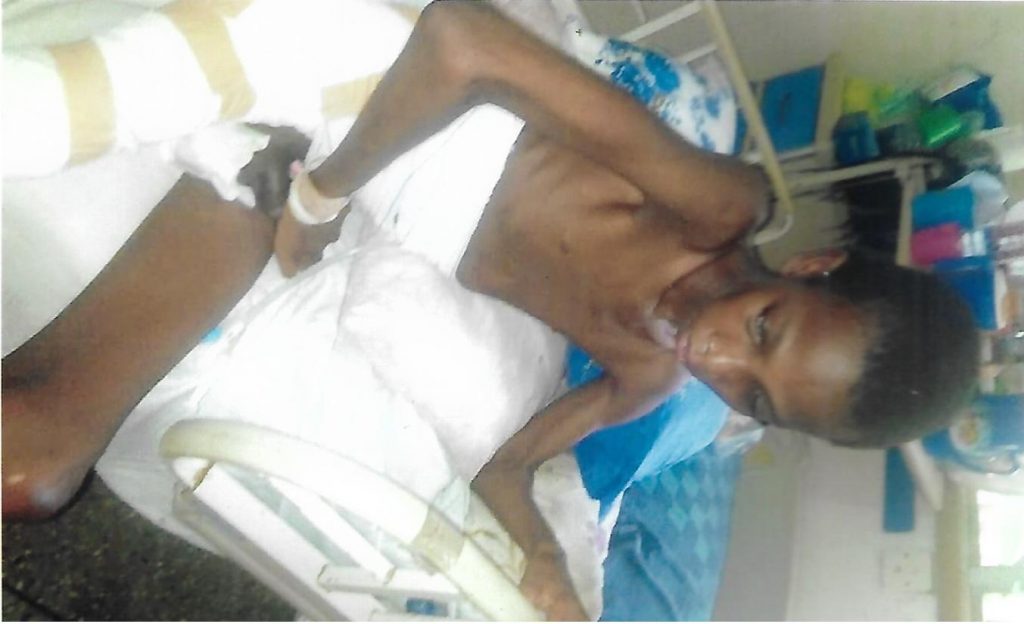 The young woman said doctors at Twifo Praso Hospital asked her to bring the child to Central Regional Hospital in Cape Coast because the sickness was beyong their capabilities at the facility. "When we came to the hospital at Cape Coast, they performed a surgery on him by taking off his spoilt skin but the doctors also made us aware that the child has to be transferred to Korle-Bu Teaching Hospital for proper medication from specialists". She told crimecheckghana.
The sickness, she said has made it difficult for her to work since she has to stay with Joseph each and every day at the hospital. She together with her husband has to stay at Korle-Bu Hospital in order to keep an on the child as he cannot do anything on his own.
Currently, she says doctors at Korle-Bu have asked her to feed the child with food supplements so that the child can gain weight ahead of a surgery he has to undergo. "Joseph has grown skinny and the doctors said he needs to gain weight so that they can take him through surgery. He takes five different food supplements a day. The foods are mostly foreign products which are very expensive". She said.
Madam Sarah Yeho is pleading with the public to come to her aid financially so that she can be able to buy the food supplements for Joseph.
Crime Check Foundation's donor, Auntie Gifty who lives in the U.S supported her with five hundred Ghana cedis.
Sarah in response to this kind gesture said, "God richly bless you Auntie Gifty. May God remember you as you have remembered Joseph. Thank you Ma", she told crimecheckghana.
Crime Check Foundation's Health Check Series is a programme which aims at supporting individuals who need medical assistance but are financially handicapped. The project, with the support of donors has saved the lives of many sick but poor Ghanaians.