38 year old Nana Akua, a widow and mother of six gets further support from Crime Check Foundation (CCF) to start up a business which will help her cater for her children.
Nana Akua told crimecheckghana some months ago she and her children had nowhere to sleep after they had been ejected from their room due to her inability to pay her rent.
According to her, she was living with her husband at Nungua a suburb of Accra with her four children but unfortunately, her husband who had an asthmatic condition passed away leaving her and the children without help from any family member or friend.
She said in her distress she met a man who offered her accommodation and during that period, she had two children with him. "When I got pregnant with the last born, the man asked me to abort the pregnancy but I refused so he abandoned me and the six children". She told crimecheckghana.
Amid tears Nana Akua said she had to go through a cesarean section when she had her sixth child so she is unable to work to cater for her children. This according to her has led her children to the dropout of school and the whole family ejected from the house because of her inability to pay her rent.
CCF through its donors initially supported Nana Akua by renting a room for her, paid the fees of her kids and provided the children with their needs. But she needed capital to start a business.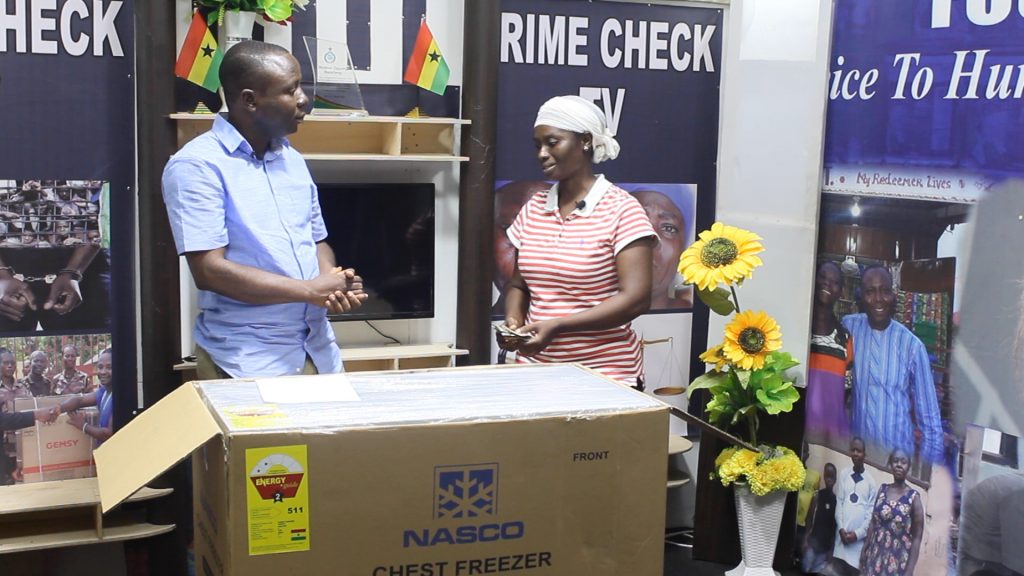 Following previous interactions with Nana Akua, she told management of CCF of her interest in the sale of pure water and other soft drinks in schools. The foundation therefore purchased deep freezer out of the money donated by the couple and gave the remaining five hundred Ghana cedis to her as startup.
A philanthropist Madam Mary and her husband Bismark who reside in cedis as startup capital.
In addition to the money, Crime Check Foundation Contributors in Italy also supported her with chips to the poor widow to enable her engage in petty trading.
An elated Nana Akua could not hide her joy "I am short of words to describe how excited I am. God richly bless Madam Mary and your husband Bismark and replace all that they have lost. To the CCF contributors in Italy, I want to say a big thank you and I pray that God will continue to bless your lives", she said joyfully.
CCF's philanthropy project aims at supporting the poor, the weak and the vulnerable who have been hard hit by the uncertainties and cruelties of life.