35year old Awudu Wahabu, a taxi driver who was involved in an accident needs financial support for medical attention at the Korle-Bu Teaching Hospital.
Wahabu, a native of Bolgatanga in the Upper East Region of Ghana said he had a motor accident on the Bolgatanga road after he had closed from work and was rushed to the Tamale Hospital after losing consciousness.
Recounting his ordeal, Wahabu told crimecheckghana, "I cannot give a vivid account of how the accident happened. All I realized was I was at the Tamale Hospital. I was told the driver of the motorcycle has passed away. I was then given a referral letter to Korle-Bu Teaching Hospital for further treatment, but that was not to be".
He further said his family and members in the community contributed an amount of four thousand Ghana cedis in addition to his one thousand Ghana cedis he had saved earlier to enable him come to Korle-Bu to commence treatment.
"I have never set foot in Accra so the five thousand Ghana cedis was given to my cousin who once lived in Accra before to bring me to Korle-Bu. We got to Accra around one o'clock am and through the help of a friend Alima, I lodged at Ashaiman, hoping to go to the hospital the next day, whiles my cousin decided to lodge at a hotel since Alima's place was not spacious enough to accommodate the two of us" he told crimecheckghana.
He revealed that his cousin never returned to take him to Korle-Bu and two months on, he is still on his sick bed unattended.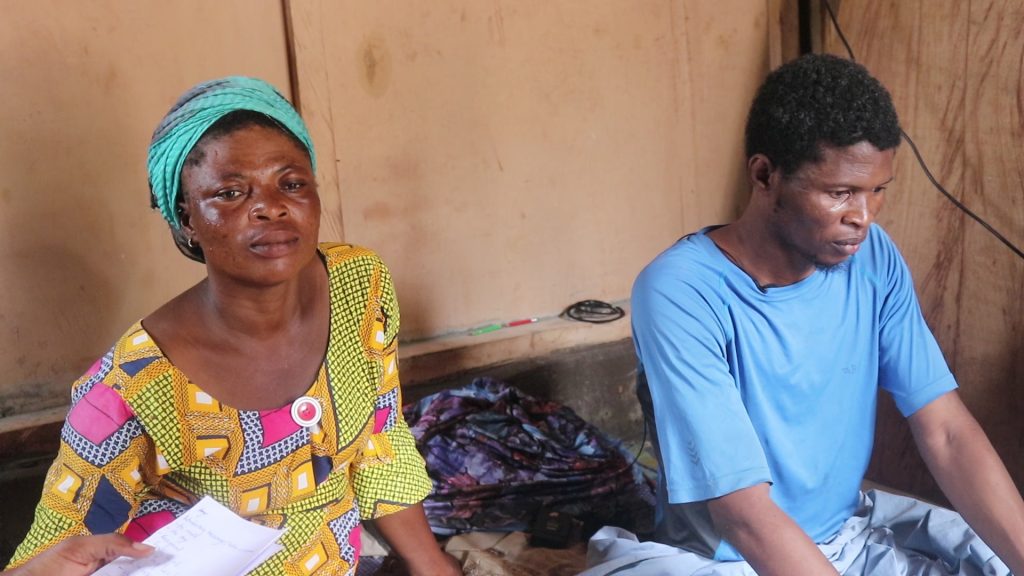 When crimecheckghana spoke to Alima, she said, "his cousin never came for him so in my small way, I helped him undergo herbal treatment but I could not fully pay the herbalist so he stopped treating him. He is bedridden and I would have to make him wear polythene bag as a form of diaper so that if he feels like easing himself, he can do it in it".
She said that Awudu bathes and eases himself in the same single room they cook and sleep in and she added that it has not been easy living with him but she tries her best as a good friend.
A distressed Awudu made a passionate plea, "I am calling on Ghanaians to come to my aid. I want to get back on my feet so that I can work to cater for my family. I am the bread winner of my family so now that I am bedridden, the family is down and they need me to survive".
Crime Check Foundation, CCF through its donors presented adult diapers to Awudu to replace the polythene bag he uses. The Organization is calling on all to come to the aid of Awudu Wahabu.
Crime Check Foundation's Health Check Series aims at supporting individuals who need medical assistance but are financially handicapped. The project, with the support of donors has saved the lives of many poor and underprivileged Ghanaians who cannot afford the cost of medical care.