18 year old Abdul Razak Pelpuo has received support from Crime Check Foundation CCF, to pay his admission fee to enter the University of Development Studies (UDS) to study BSc Medicine.

Mr Pelpou, a science student passed with 6As and 2Bs from Ghana Secondary Technical School in Takoradi, but has been sweating on the prospect of losing the opportunity of fulfilling his lifelong dream of becoming a Medical Doctor. "My dream is to become a medical doctor to contribute to the development of my country, but my dad who could have helped pay my admission fee is poor and paralyzed. My mother is also diseased" he told crimecheckghana.

His sister Najat Pelpou who accompanied him to the office of CCF, said she has personally gone to many people with her brother's result slip for support, but to no avail till Crime Check Foundation offered to help her brother through one of the donors, Mrs. Mina Okyere, a Ghanaian resident in the UK. "I and my brother Abdul Razak Pelpou are eternally grateful to Mrs. Mina Okyere and CCF for paying my brother's admission fee. May God richly bless you" she told crimecheckghana, sobbing.
Miss Pelpou has however appealed to well-meaning Ghanaians to support his brother by contributing towards his lodging and other needs at the University.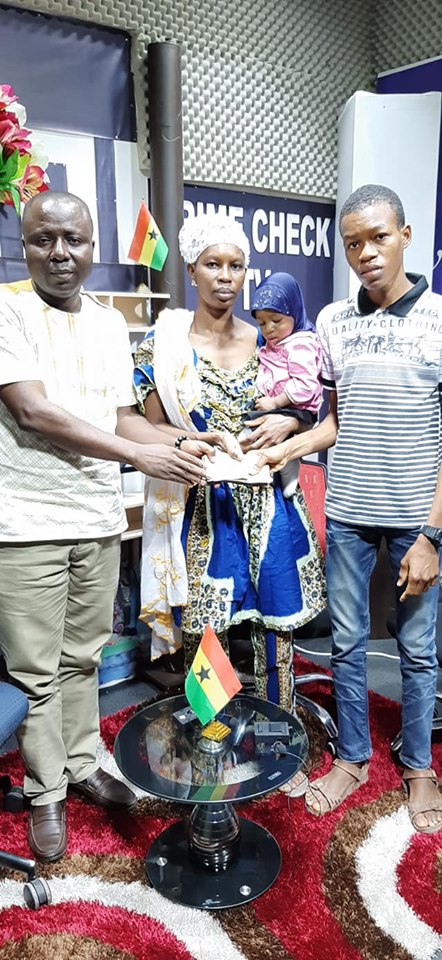 The Executive Director of Crime Check Foundation, Ibrahim Oppong Kwarteng urged philanthropists and well-meaning Ghanaians to support her brother by contributing to the CCF educational Support Fund to give hope to needy but brilliant students who usually lose the opportunity to further their education because of poverty.